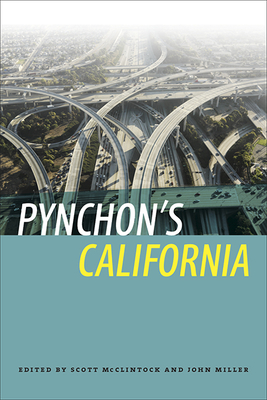 Pynchon's California (New American Canon)
Paperback

* Individual store prices may vary.
Description
Pynchon's California is the first book to examine Thomas Pynchon's use of California as a setting in his novels. Throughout his 50-year career, Pynchon has regularly returned to the Golden State in his fiction. With the publication in 2009 of his third novel set there, the significance of California in Pynchon's evolving fictional project becomes increasingly worthy of study. Scott McClintock and John Miller have gathered essays from leading and up-and-coming Pynchon scholars who explore this topic from a variety of critical perspectives, reflecting the diversity and eclecticism of Pynchon's fiction and of the state that has served as his recurring muse from The Crying of Lot 49 (1965) through Inherent Vice (2009).

Contributors explore such topics as the relationship of the "California novels" to Pynchon's more historical and encyclopedic works; the significance of California's beaches, deserts, forests, freeways, and  "hieroglyphic" suburban sprawl; the California-inspired noir tradition; and the surprising connections to be uncovered between drug use and realism, melodrama and real estate, private detection and the sacred. The authors bring insights to bear from an array of critical, social, and historical discourses, offering new ways of looking not only at Pynchon's California novels, but at his entire oeuvre. They explore both how the history, geography, and culture of California have informed Pynchon's work and how Pynchon's ever-skeptical critical eye has been turned on the state that has been, in many ways, the flagship for postmodern American culture.
 
CONTRIBUTORS: Hanjo Berressem, Christopher Coffman, Stephen Hock, Margaret Lynd, Scott MacLeod, Scott McClintock, Bill Millard, John Miller, Henry Veggian 

Praise For Pynchon's California (New American Canon)…
"McClintock and Miller's terrific collection of essays on Pynchon's California reveals just how much is still to be gained from sustained attention to a feature that became really salient only with the publication of Inherent Vice in 2009. To be sure, critics have long been aware of the special place California occupies in the Pynchon Imaginary, but only now can we see the extent to which all of the fiction is illuminated by scrutiny of the important thematic frame provided by this particular setting."—David Cowart, author, Thomas Pynchon and the Dark Passages of History

"Impressively various and wide-ranging in their scholarship, the chapters of this volume make a compelling case for grouping Pynchon's three shortest novels together and examining them jointly as a kind of accidental trilogy. Especially welcome is the rehabilitation of the underrated novels Vineland and Inherent Vice, which deserve, and richly repay, close attention of the kind that these essays devote to them. Kudos to McClintock and Miller for assembling this uniquely valuable volume."—Brian McHale, author, Postmodernist Fiction

University Of Iowa Press, 9781609382735, 228pp.
Publication Date: November 1, 2014
About the Author
Scott McClintock is an associate professor of English and comparative literature at National University in San Bernardino. His research interests include literatures of the Americas, anti-terror discourse critique, the Indian novel in English, and Cold War cultural studies. He has published on Salman Rushdie, Amitav Ghosh, Franz Kafka, Laureano Alban, and the culture of the Cold War. He lives in Big Bear City, California. John Miller is a professor of English at National University in Costa Mesa. His scholarly publications have dealt with a variety of topics, from the early modern prose of Francis Bacon, Robert Burton, and Izaak Walton to the fiction of J. R. R. Tolkien and Thomas Pynchon, as well as the science fiction short story, hyperfiction and role playing games, and online pedagogy. He lives in Irvine, California.

or
Not Currently Available for Direct Purchase