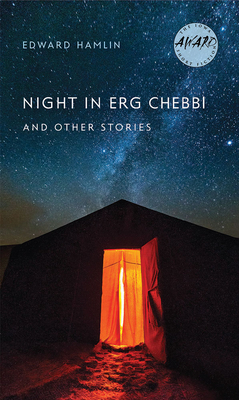 Night in Erg Chebbi and Other Stories (Iowa Short Fiction Award)
Paperback

* Individual store prices may vary.
Description
Night in Erg Chebbi and Other Stories spans the globe, taking us from Belfast to Brazil, Morocco to Manhattan. The teenaged daughter of an IRA assassin flees Northern Ireland only to end up in Baby Doc's terrifying Haiti. An American woman who's betrayed her brother only to lose him to a Taliban bullet comes face to face with her demons during a vacation in Morocco. A famed photojournalist must find a way to bring her life's work to closure before she goes blind, a quest that changes her understanding of the very physics of light.

By turns innocent and canny, the characters of Night in Erg Chebbi and Other Stories must learn to improvise—quickly—when confronted with stark choices they never dreamed they'd have to make. Lyrical, immaculately constructed and deeply felt, these nine stories take us far beyond our comfort zones and deep into the wilds of the human heart.

Praise For Night in Erg Chebbi and Other Stories (Iowa Short Fiction Award)…
"Edward Hamlin's fictional worlds are as compelling as they are varied, and his characters intuit how much we're all—finally—exiles, from the American couple who find their visit to Erg Chebbi flyblown and faintly absurd in its exoticism but shot through with menace, to the pregnant ecotourism manager transplanted from Belfast to the Brazilian rainforest, to the newly widowed second wife surprised at how much her heart seems to have closed to her children and the world. All of them are suffused with an observational intelligence and a pained compassion that are heartening. This is a beautifully written and politically astute collection."—Jim Shepard


"Night in Erg Chebbi is a stunner. In these nine dispatches from farflung territories, skies detonate, boots are weapons, and people lie—and also tell the truth. Edward Hamlin observes it all with mellow wisdom, showing us the world as it has always been, but as we have never quite seen it before. A marvelous book about the natural world and the human landscapes of resilience, grief, and love."— Katherine Hill, author, The Violet Hour

"Edward Hamlin has been listening hard to the opaque rustling of the world. And he is just as adept at describing the crack a skull makes on tile as the 'quieter, thrushier' gurgling of a creek after a drought. The stories in Night in Erg Chebbi are sweeping and intimate and awesomely confident of their own effects. They document staggering, cataclysmic changes—forest fire, flash flood, revolution, murder—as well as the slow violence of grief and degenerative disease. In one story, a photographer is losing her eyesight and her art; in another, a boy leashed to his house on 'a good long lead' runs away. This is a collection with both depth and breadth, a book dedicated to revealing 'the universal concealed in the weft of the particular.' Hamlin spins the globe, jumping nimbly from a treetop lodge on a Brazilian riverbank to the lawn of a governor's mansion on the eve of an execution to Merzouga, Morocco, 'gateway to the dune sea of Erg Chebbi.' No matter how wild or unsettling the events of a story, Hamlin holds the camera steady. As one character says, 'What mattered lately was to observe with precision rather than to judge for good or ill.' Each story here is a world in miniature, illuminated by the flashbulb bursts of Hamlin's luminous, controlled prose."—Karen Russell, judge, 2015 Iowa Short Fiction Award

University Of Iowa Press, 9781609383831, 198pp.
Publication Date: October 1, 2015
About the Author
Edward Hamlin's work has appeared in numerous literary journals and on stage. He was the winner of the 2013 Nelligan Prize for Short Fiction. A New York native, Hamlin spent his formative years in Chicago, and now makes his home in Boulder, Colorado.
or
Not Currently Available for Direct Purchase