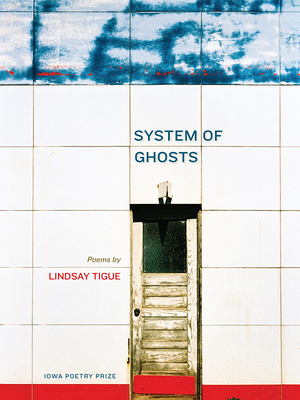 System of Ghosts (Iowa Poetry Prize)
Paperback

* Individual store prices may vary.
Description
In System of Ghosts, Lindsay Tigue details the way landscape speaks to isolation and personhood, how virtual and lived networks alter experience. She questions how built environments structure lives, how we seek out information within these spaces, and, most fundamentally, how we love.

Rooted in the personal, the speaker of this collection moves through society and history, with the aim of firmly placing herself within her own life and loss. Facts become an essential bridge between spatial and historical boundaries. She connects us to the disappearance of species, abandoned structures, and heartbreak—abandoned spaces that tap into the searing grief woven into society's public places. There is solace in research, one system this collection uses to examine the isolation of contemporary life alongside personal, historical, and ecological loss. While her poems are intimate and personal, Tigue never turns away from the larger contexts within which we all live.

System of Ghosts is, at its core, an act of reaching out—across time, space, history, and across the room. 

Praise For System of Ghosts (Iowa Poetry Prize)…
"System of Ghosts explores frontiers vanishing and gone. With a restless intelligence, Lindsay Tigue's poems seek to know, to measure, to recover histories nearly lost. In these pages the world and the self are fantasized, destroyed, shared like an orange, abandoned like a rough draft, as unforgettable as the dead."—Traci Brimhall, author, Our Lady of the Ruins 


"Lindsay Tigue's work presents a vision, dominated by geography and natural history, uniquely paired with emotional imagination—the not-there-ness that coexists with its there-ness. This crush together, her feelings always a bit estranged from her, replaced by her gravitation to facts that she has remembered."—Diane Wakoski, author, Bay of Angels 


"Lindsay Tigue has, first and foremost, a curious mind: her poems are motored by information. Bits of knowledge, gathered magpielike, which others might consider trivia—the origins of the red and green?on traffic lights, the different ways distant towns told time before railroads connected them, the composition of the asteroid Ceres—spur these poems toward startling personal and public insights. As in the poetry of Robyn Schiff and the prose of?Eula Biss, these esoteric facts knit together carefully and with a gentle sense of mischievous humor, and come to generalize about human suffering and hope. What Tigue is seeking in all this minutiae, all these forgotten facts, is what everyone wants, what everyone's afraid not to find: recognition, company, balm for the aloneness that starts at the edge of everyone's skull. It's why, when her cat leaves the bed, 'I put my nose to that warmed / crater-space his body left;' it's why 'I wake you at night;' and it's why you'll read this book again and again." —Craig Morgan Teicher, judge, 2015 Iowa Poetry Prize 


"Something powerful occupies these poems, even when a mournful air hangs heaviest over the collection, which makes this a truly solid debut."
— Birmingham Poetry Review
University Of Iowa Press, 9781609384012, 84pp.
Publication Date: April 1, 2016
About the Author
Lindsay Tigue grew up in Michigan. Her poems and stories have appeared in Prairie Schooner, Blackbird, Indiana Review, and Hayden's Ferry Review, among other literary journals. She lives in Athens, Georgia, where she is a PhD student in creative writing at the University of Georgia. 
or
Not Currently Available for Direct Purchase