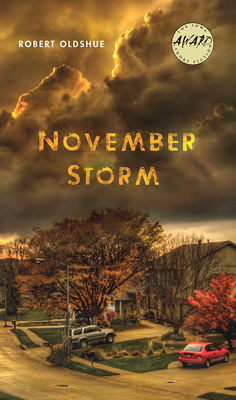 November Storm (Iowa Short Fiction Award) (Paperback)
University Of Iowa Press, 9781609384517, 140pp.
Publication Date: October 1, 2016
* Individual store prices may vary.
Description
In each of the stories in Robert Oldshue's debut collection, the characters want to be decent but find that hard to define.

In the first story, an elderly couple is told that delivery of their Thanksgiving dinner has been canceled due to an impending blizzard. Unwilling to have guests but nothing to serve them, they make a run to the grocery, hoping to get there and back before the snow, but crash their car into the last of their neighbors. In "The Receiving Line," a male prostitute tricks a closeted suburban schoolteacher only to learn that the trick is on him. In "The Woman On The Road," a twelve-year-old girl negotiates the competing demands of her faith and her family as she is bat mitzvahed in the feminist ferment of the 1980s. The lessons she learns are the lessons learned by a ten-year-old boy in "Fergus B. Fergus," after which, in "Summer Friend," two women and one man renegotiate their sixty-year intimacy when sadly, but inevitably, one of them gets ill. "The Home Of The Holy Assumption" offers a benediction. A quadriplegic goes missing at a nursing home. Was she assumed? In the process of finding out, all are reminded that caring for others, however imperfectly—even laughably—is the only shot at assumption we have.

In upstate New York, a November storm is one that comes early in the season. If it catches people off-guard, it can change them in the ways Oldshue's characters are changed by different but equally surprising storms.
 
About the Author
When he isn't writing, Robert Oldshue practices family medicine at a community health center in Boston. He holds an MFA from Warren Wilson College, and his work has appeared in the Bellevue Literary Review, the Gettysburg Review, and New England Review. He is married and has two children. 
Praise For November Storm (Iowa Short Fiction Award)…
"Robert Oldshue writes stories that are as rich and self-complicating as novels. Set mostly in Boston, November Storm explores that city—like Stuart Dybek's Chicago or Edward P. Jones's DC—through the layers of its characters' memories. Whether he's writing from the point of view of a haunted psychiatrist, a gay prostitute weathering the AIDS epidemic, or a night watchman at a cemetery, Oldshue proceeds by patiently excavating the past from every place, unearthing a character's associations and experiences—often in long, spiraling, masterful sentences—until what feels like an entire life has been disclosed. Here a twenty-page story seems deeper—more densely sedimented with consciousness and retrospection—than most two-hundred-page books. This is a sensitive and accomplished collection."—Bennett Sims, judge, 2016 Iowa Short Fiction Award
"These superb stories are written with a sharp wit, big heart, and profound wisdom. Oldshue's genius lies in his ability to bring remarkable emotional complexity to the lives of ordinary characters whom we recognize as ourselves. A brilliant debut."—Helen Fremont, author, After Long Silence: A Memoir
 
"A dazzling collection of stories, each with the depth and complexity of a novel. Utterly compelling, I read this book almost in one sitting. Robert Oldshue is an exciting and brilliant new literary voice. Perhaps the Great American Novel is now to be found in a collection of extraordinary short stories."—Rosamund Lupton, author, Sister
"Robert Oldshue's debut collection is deceptive. While one could say these stories are about things as simple as driving in bad weather, seeing the next client, and visiting an old friend in the hospital, each of them is a world concentrated and distilled, filled with compassion, insight, and surprise."—Peter Turchi, author, Maps of the Imagination: The Writer as Cartographer
"Oldshue's debut collection, winner of the Iowa Short Fiction Award, finds consistent success in its depictions of intimate relationships. Oldshue's sturdy prose and potent, understated endings will satisfy fans of the classic short story."—starred review, Publishers Weekly
— Publishers Weekly
or
Not Currently Available for Direct Purchase