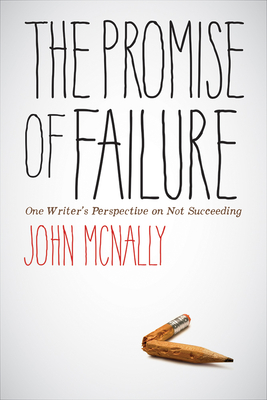 The Promise of Failure
One Writer's Perspective on Not Succeeding
Paperback

* Individual store prices may vary.
Description
The Promise of Failure is part memoir of the writing life, part advice book, and part craft book; sometimes funny, sometimes wrenching, but always honest. McNally uses his own life as a blueprint for the writer's daily struggles as well as the existential ones, tackling subjects such as when to quit and when to keep going, how to deal with depression, what risking something of yourself means, and ways to reenergize your writing through reinvention. 
What McNally illuminates is how rejection, in its best light, is another element of craft, a necessary stage to move the writer from one project to the next, and that it's best to see rejection and failure on a life-long continuum so that you can see the interconnectedness between failure and success, rather than focusing on failure as a measure of self-worth. As brutally candid as McNally can sometimes be, The Promise of Failure is ultimately an inspiring book—never in a Pollyannaish self-help way. McNally approaches the reader as a sympathetic companion with cautionary tales to tell. Written by an author who has as many unpublished books under his belt as published ones, The Promise of Failure is as much for the newcomer as it is for the established writer. 
Praise For The Promise of Failure: One Writer's Perspective on Not Succeeding…
"The Promise of Failure is a book I'll be giving to my writing students. Rejection has always been part of every writer's life, but the writer's market is now more adversarial than ever before, and John McNally's precept and example will help them find what it takes to survive in it. This book is both a compendium of good advice and a memoir of the life of a writer willing to try anything—really anything—and to stick with it against any odds. This book isn't about failure; it's about never giving up."—Madison Smartt Bell, author, All Souls' Rising 
"Beside Dillard's
The Writing Life
and Gardner's
On Becoming a Novelist
, place John McNally's
The Promise of Failure
. The book is a gut-funny, bone-honest memoir of the highs and lows (mostly lows) of a life-long writer. Read the book and you'll learn what to do with all those rejection letters, all that bitterness at the success of other writers (proudly displayed on Facebook), all those abandoned novels and stories, and all those grim moods that make your every word seem stupid. There is a secret 'yes' in the negative McNally shows, and a wisdom deep and rare that arises only from suffering. This book, a gorgeously written account of the difficulty of writing, exemplifies that rising."—Eric G. Wilson, author,
Against Happiness 
University Of Iowa Press, 9781609385750, 144pp.
Publication Date: June 15, 2018
About the Author
John McNally is the author or editor of seventeen books, including The Boy Who Really, Really Wanted to Have Sex: The Memoir of a Fat Kid and Vivid and Continuous: Essays and Exercises for Writing Fiction (Iowa). McNally divides his time between Winston-Salem, North Carolina, and Lafayette, Louisiana. He teaches at Pacific University in Forest Grove, Oregon. 
or
Not Currently Available for Direct Purchase