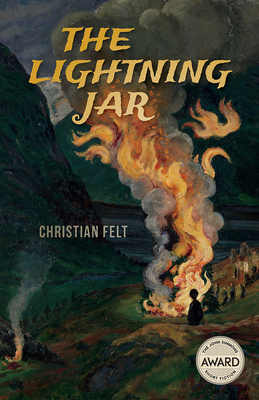 The Lightning Jar (Iowa Short Fiction Award) (Paperback)
University Of Iowa Press, 9781609386009, 142pp.
Publication Date: October 15, 2018
* Individual store prices may vary.
Description
The Lightning Jar is about lonely children. It may be more about lonely children than any other book. These children are good at making imaginary friends but have trouble keeping them. For instance, there's the Morra, who plunges the world into eternal winter. But she also teaches Mons the meaning of love and helps him burn down his house after some Gypsies turn it into a middle school. 
Then there's the Gorbel. Amanda invented it to scare the Guest, but it ended up liking him best. A bit like a cat but more like a spider, it turned out a lot cuter than she'd intended. 
And the Wisps—they're pretty unhappy about being dead. Karl accidentally turned his smallest cousin into a Wisp. They were trying to catch some lightning in a jar, but they caught the smallest cousin's ghost instead. Karl had to drown it for its own good. Something similar happened with his grandma Astrid and a rock named Melisande. 
But the loneliest character is probably Christian. He insists on being from Jämtland, where Karl and Amanda live. When his cousin Eskild got married, Christian rewrote their past so it's like The Little Mermaid, except Eskild drowns and Christian doesn't earn a soul. 
In the spirit of Tove Jansson, William Blake, and Calvin & Hobbes, The Lightning Jar contains a volatile mix of innocence and experience, faith and doubt, nostalgia and a sense of all there is to gain by accepting reality on fresh terms. 
Praise For The Lightning Jar (Iowa Short Fiction Award)…
". . . eerie and wondrous. Gypsies and ghosts, colors and sounds, forests and dances: they all twirl together in this lonely, lively book."
— Foreword Reviews
"The stories in Felt's collection tap into the mysteries of childhood, incorporating folklore, ghost stories, and Mormonism along the way. Alternately unnerving and heartwarming, this book's evocation of family life is compelling stuff."
— Kirkus Reviews