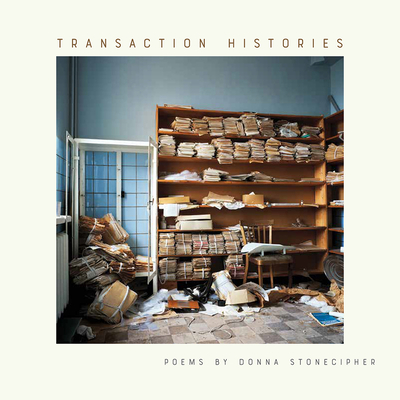 Transaction Histories (Kuhl House Poets) (Paperback)
University Of Iowa Press, 9781609386023, 102pp.
Publication Date: September 10, 2018
* Individual store prices may vary.
Description
Reveling in the paradox of the formal prose poem, Donna Stonecipher's Transaction Histories gathers together six series of poems that explore the disobedient incongruities of aesthetics and emotions. Stonecipher's carefully sculpted forms and exacting language are held in tension with an unruly imagination to provoke a vision of experience densely layered with bodies impinging upon and altering each other, engaging in transactions that unfold in poetically complex and emotionally startling ways. By turns wry and melancholic, playful and acerbic, erotically charged and politically skeptical, Stonecipher's poems marry a deeply felt lyricism to a fascination with the mechanisms of narrative. The result is akin to Roland Barthes's notion of "the novelistic": writing that flirts with the gestures and spaces of the novel without the trappings of plot, character, or action. Narrative fragments dart in and out of sight, spectral figures and motifs recur in fugal patterns, and habits of ruthless observation are brought to bear on the details of both intimate life and social organization. 
Stonecipher lays claim to a stylistic achievement and vision that are entirely her own, transparent and elusive, casual in address and rigorous in design. Whether training its eye on fetishized polar bears, illegal garbage dumping, or ideological debates around rose chintz wallpaper, Transaction Histories tracks the fitful and tragicomic relationships that exist among objects, landscapes, texts, and people, and lays bare the ways in which our transactions keep our lives going. 
About the Author
Donna Stonecipher is the author of The Reservoir, Souvenir de Constantinople, The Cosmopolitan, Model City, and Prose Poetry and the City. She lives in Berlin, Germany. 
Praise For Transaction Histories (Kuhl House Poets)…
Previous praise for Donna Stonecipher's Model City: 
"[A] highly affecting work of imagination and sensibility . . . one often feels afloat in a world concocted and dreamy, there and not there." 
— Martha Ronk, The Constant Critic
Previous praise for Donna Stonecipher's Model City: 
"In the same way that architecture must abide by certain rules and regulations but can still create a thing of beauty, Stonecipher, by constraining herself to engineer within her own parameters, forms beautiful language and ideas."
— Hamzah M. Hussain, DURA
Previous praise for Donna Stonecipher's Model City: 
"How many poets are there in the world that you go looking for online, checking regularly, even impatiently, to see whether and when their new books will be out? Not many. Among the poets whose work I anxiously await, Donna Stonecipher has long been near the top of the list."
— Michael Thurston, Massachusetts Review