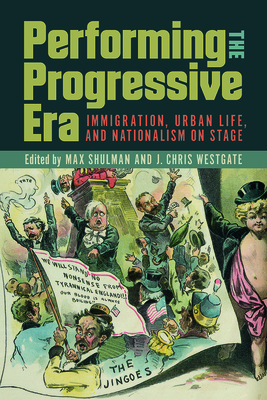 Performing the Progressive Era (Paperback)
Immigration, Urban Life, and Nationalism on Stage (Studies Theatre Hist & Culture)
University Of Iowa Press, 9781609386474, 298pp.
Publication Date: May 15, 2019
* Individual store prices may vary.
Description
The American Progressive Era, which spanned from the 1880s to the 1920s, is generally regarded as a dynamic period of political reform and social activism. In Performing the Progressive Era, editors Max Shulman and Chris Westgate bring together top scholars in nineteenth- and twentieth-century theatre studies to examine the burst of diverse performance venues and styles of the time, revealing how they shaped national narratives surrounding immigration and urban life. Contributors analyze performances in urban centers (New York, Chicago, Cleveland) in comedy shows, melodramas, Broadway shows, operas, and others. They pay special attention to performances by and for those outside mainstream society: immigrants, the working-class, and bohemians, to name a few. Showcasing both lesser-known and famous productions, the essayists argue that the explosion of performance helped bring the Progressive Era into being, and defined its legacy in terms of gender, ethnicity, immigration, and even medical ethics.
About the Author
Max Shulman is assistant professor of theatre in the Department of Visual and Performing Arts at University of Colorado, Colorado Springs.

J. Chris Westgate is professor of English at California State University, Fullerton. He is the author of Urban Drama: The Metropolis in Contemporary North American Plays and Staging the Slums, Slumming the Stage: Class, Poverty, Ethnicity, and Sexuality in American Theatre, 1890–1916.