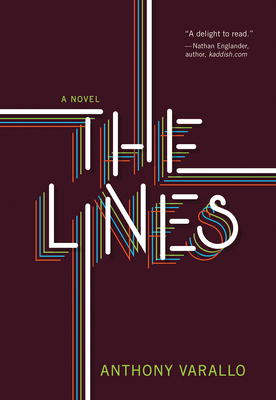 The Lines (Paperback)
University Of Iowa Press, 9781609386658, 230pp.
Publication Date: August 15, 2019
* Individual store prices may vary.
Description
Set in the summer of 1979, when America was running out of gas, The Lines tells the story of a family of four—the mother, the father, the girl, and the boy—in the first months of a marital separation. Through alternating perspectives, we follow the family as they explore new territory, new living arrangements, and new complications. The mother returns to school. The father moves into an apartment. The girl squares off with her mother, while the boy struggles to make sense of the world. The Lines explores the way we are all tied to one another, and how all experience offers the possibility of love and connection as much as loss and change.
About the Author
Anthony Varallo is the author of four short story collections, most recently Everyone Was There. He is professor of English at the College of Charleston, where he teaches creative writing. He lives in Charleston, South Carolina.
Praise For The Lines…
STARRED REVIEW: Against the backdrop of the 1970s gasoline crisis, members of a mid-Atlantic family identified only as the father, the mother, the boy, and the girl struggle with separation and its attendant fears in this debut novel. "When things separate, they double," the kids discover after their distant father moves into his own apartment and, soon enough, begins sharing it with a waitress from a local restaurant. Suddenly, the boy and girl have two homes, two mother figures, and two beds. (The boy, exceptionally bright for a 7-year-old, thinks he dreams differently in the full-size than in the twin.) When their overwhelmed mother becomes involved with a drab man named Cliff, the boy and his nearly 10-year-old sister have Marcus, Cliff's spouting-off adolescent son, to contend with. Quietly unsettling details accrue: The sleepless girl hears repetitions of "how? how? how?" in her brother's oscillating room fan; the boy hears car crashes outside his bedroom window a year after two teens in the area died in an accident; the children's margarita-drinking Florida grandmother tosses off casually hurtful remarks. A master of narrative control, Varallo (Everyone Was There, 2017, etc.) creates the kind of page-turning suspense you don't expect in a book like this. Potential dangers abound: the creepy guy on the bicycle the girl keeps spotting; the gas-powered mower the boy teaches himself to use, on his own; Marcus' fondness for setting things on fire. The resilient children will emerge wiser and stronger from their ordeals. That likely won't be the case with their misguided parents, who don't know how to stop running on empty. A darkly cutting investigation of dysfunction in which the kids, more often than not, are way sharper than the parents.
— KIRKUS Reviews
"An erudite, insightful, multilayered and compelling novel from first page to last, The Lines is unreservedly recommended for personal reading lists, as well as community and academic library Contemporary Literary Fiction collections."—Midwest Book Review
— Midwest Book Review