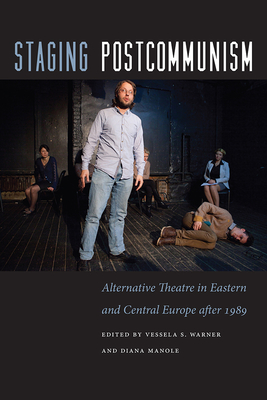 Staging Postcommunism (Paperback)
Alternative Theatre in Eastern and Central Europe after 1989 (Studies Theatre Hist & Culture)
University Of Iowa Press, 9781609386771, 298pp.
Publication Date: January 1, 2020
* Individual store prices may vary.
Description
Theatre in Eastern and Central Europe was never the same after the fall of the Berlin Wall in 1989. In the transition to a postcommunist world, "alternative theatre" found ways to grapple with political chaos, corruption, and aggressive implementation of a market economy. Three decades later, this volume is the first comprehensive examination of alternative theatre in ten former communist countries. The essays focus on companies and artists that radically changed the language and organization of theatre in the countries formerly known as the Eastern European bloc. This collection investigates the ways in which postcommunist alternative theatre negotiated and embodied change not only locally but globally as well.

Contributors: Dennis Barnett, Dennis C. Beck, Violeta Decheva, Luule Epner, John Freedman, Barry Freeman, Margarita Kompelmakher, Jaak Rahesoo, Angelina Ros¸ca, Ban¸uta Rubess, Christopher Silsby, Andrea Tompa, S. E. Wilmer
About the Author
Vessela S. Warner is associate professor of theatre history, dramatic literature, and dramaturgy at the University of Alabama at Birmingham.

Diana Manole is an instructor of drama and literature at Trent University in Canada. Manole has published nine collections of poems and plays.