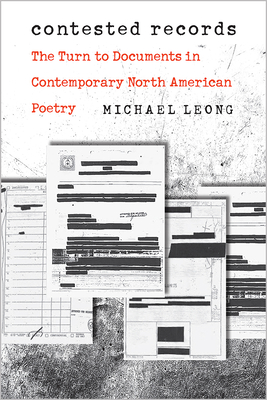 Contested Records (Paperback)
The Turn to Documents in Contemporary North American Poetry (Contemp North American Poetry)
University Of Iowa Press, 9781609386894, 308pp.
Publication Date: May 13, 2020
* Individual store prices may vary.
Description
Why have so many contemporary poets turned to source material, from newspapers to governmental records, as inspiration for their poetry? How can citational poems offer a means of social engagement? Contested Records analyzes how some of the most well-known twenty-first century North American poets work with fraught documents. Whether it's the legal paperwork detailing the murder of 132 African captives, state transcriptions of the last words of death row inmates, or testimony from miners and rescue workers about a fatal mine disaster, author Michael Leong reveals that much of the power of contemporary poetry rests in its potential to select, adapt, evaluate, and extend public documentation.
Examining the use of documents in the works of Kenneth Goldsmith, Vanessa Place, Amiri Baraka, Claudia Rankine, M. NourbeSe Philip, and others, Leong reveals how official records can evoke a wide range of emotions—from hatred to veneration, from indifference to empathy, from desire to disgust. He looks at techniques such as collage, plagiarism, re-reporting, and textual outsourcing, and evaluates some of the most loved—and reviled—contemporary North American poems. Ultimately, Leong finds that if bureaucracy and documentation have the power to police and traumatize through the exercise of state power, then so, too, can document-based poetry function as an unofficial, counterhegemonic, and popular practice that authenticates marginalized experiences at the fringes of our cultural memory.
About the Author
Michael Leong teaches in the School of Critical Studies at the California Institute of the Arts. His most recent poetry books include Who Unfolded My Origami Brain?. He lives in Los Angeles, California.