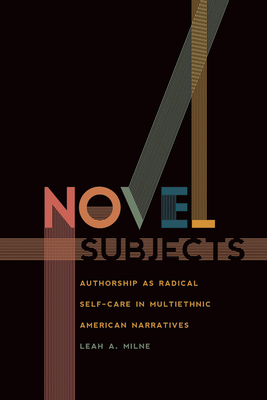 Novel Subjects
Authorship as Radical Self-Care in Multiethnic American Narratives (New American Canon)
Paperback

* Individual store prices may vary.
Description
How does contemporary literature contend with the power and responsibility of authorship, particularly when considering marginalized groups? How have the works of multiethnic authors challenged the notion that writing and authorship are neutral or universal?

In Novel Subjects, Leah Milne offers a new way to look at multicultural literature by focusing on scenes of writing in contemporary works by authors with marginalized identities. These scenes, she argues, establish authorship as a form of radical self-care—a term we owe to Audre Lorde, who defines self-care as self-preservation and "an act of political warfare."

In engaging in this battle, the works discussed in this study confront limitations on ethnicity and nationality wrought by the institutionalization of multiculturalism. They also focus on identities whose mere presence on the cultural landscape is often perceived as vindictive or willful. Analyzing recent texts by Carmen Maria Machado, Louise Erdrich, Ruth Ozeki, Toni Morrison, and more, Milne connects works across cultures and nationalities in search of reasons for this recent trend of depicting writers as characters in multicultural texts. Her exploration uncovers fiction that embrace unacceptable or marginalized modes of storytelling—such as plagiarism, historical revisions, jokes, and lies—as well as inauthentic, invisible, and unexceptional subjects. These works ultimately reveal a shared goal of expanding the borders of belonging in ethnic and cultural groups, and thus add to the ever-evolving conversations surrounding both multicultural literature and self-care.
Praise For Novel Subjects: Authorship as Radical Self-Care in Multiethnic American Narratives (New American Canon)…
"Milne offers a bold intervention in the field of contemporary American literature: a defense of multiculturalism at a time when it seems to have been largely abandoned except in corporate circles. When so much of American political discourse seems to be beholden to a resurgent anti-immigrant ethnonationalism, such a defense is welcome."—Min Hyoung Song, author, The Children of 1965: On Writing, and Not Writing, as an Asian American

"The themes Milne engages are quite important to American literature, contemporary fiction, multiethnic literature, and ethnic studies—there aren't enough works that engage with contemporary ethnic American literature, especially when thinking through issues of narratology and intersectionality. Studies and comparative analyses of this kind are the most innovative in the field and are what students are looking for."—Jennifer Ho, coeditor, Narrative, Race, and Ethnicity in the United States
University Of Iowa Press, 9781609387624, 258pp.
Publication Date: July 1, 2021
About the Author
Leah A. Milne is assistant professor of English at the University of Indianapolis, where she teaches courses in multiethnic literature. Milne lives in Indianapolis, Indiana.