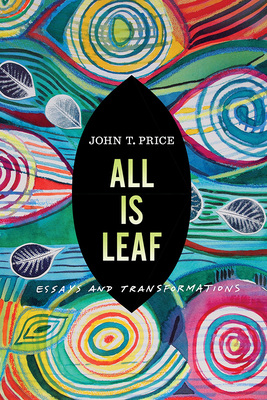 All Is Leaf
Essays and Transformations (Bur Oak Book)
Paperback

* Individual store prices may vary.
Description
Drawing inspiration and urgency from the storied Goethe Oak tree at Buchenwald concentration camp—and from the leaf as symbol of all change, growth, and renewal—award-winning essayist John Price explores a multitude of dramatic transformations, in his life and in the fragile world beyond: "the how of the organism—that keeps your humanity alive."

He employs an array of forms and voices, whether penning a break-up letter to America or a literary rock-n-roll road song dedicated to prairie scientists, or giving pregame pep talks to his son's losing football team. Here, too, are moving portrayals of his father's last effort as a small-town lawyer to defend the rights of abused women, and his own efforts as a writing teacher to honor the personal stories of his students.

From his Iowa backyard to the edge of the Arctic Circle, from the forgotten recesses of the body to the far reaches of the solar system, this book demonstrates the ways imagination and informed compassion can, as Price describes it, expand thousandfold the boundaries of what we might "have naïvely considered an individual self."  
 
Praise For All Is Leaf: Essays and Transformations (Bur Oak Book)…
"Whether writing movingly and urgently of his father's last legal case or exploring the absurdity of pizza night at Planet Fitness, Price does so with a compelling goodwill that is in such short supply these days. He masterfully balances genuine emotion and whimsy with the sly aplomb and generous gaze of a true midwesterner."—Sue William Silverman, author, How to Survive Death and Other Inconveniences

"All Is Leaf is a master class in the essay, demonstrating inspiring stylistic and emotional range. Hilarious and tender, it opens a redemptive view of home, self, family, and the natural world. Price shows how humor and pathos, nature and human nature, are two sides of the same remarkable leaf."—Michael P. Branch, author, On the Trail of the Jackalope:How a Legend Captured the World's Imagination and Helped Us Cure Cancer
 

"With a wink and a humble nod to the universe, John Price has crafted a brilliant collection that captures his enchantment with nature and delves into flights of fancy. All Is Leaf will invite you to ponder, imagine, or laugh with every delightful page."—Lydia Kang, author, Opium and Absinthe

"John Price's roaming curiosity charges these wide-ranging, oftentimes humorous, always insightful, essays. This is a book to read with pencil in hand—not only to mark his memorable passages and phrases, but because you'll be flabbergasted at how Price delivered such a beautiful smorgasbord of prose into your brain."—Taylor Brorby, author, Boys and Oil
University Of Iowa Press, 9781609388355, 218pp.
Publication Date: June 6, 2022
About the Author
John T. Price is professor of English and director of the Creative Nonfiction Writing Program at the University of Nebraska, Omaha. He is author of Man Killed by Pheasant and Other Kinships (Iowa, 2012) and the editor of The Tallgrass Prairie Reader (Iowa, 2014). He lives in Council Bluffs, Iowa.