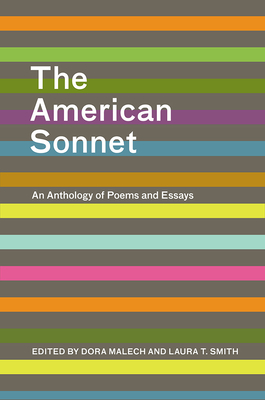 The American Sonnet
An Anthology of Poems and Essays
Paperback

* Individual store prices may vary.
Description
Poet and scholar team Dora Malech and Laura T. Smith collect and foreground an impressive range of sonnets, including formal and formally subversive sonnets by established and emerging poets, highlighting connections across literary moments and movements. Poets include Phillis Wheatley, Fredrick Goddard Tuckerman, Emma Lazarus, Paul Laurence Dunbar, Gertrude Stein, Fradel Shtok, Claude McKay, Edna St. Vincent Millay, Ruth Muskrat Bronson, Langston Hughes, Muriel Rukeyser, Gwendolyn Brooks, Dunstan Thompson, Rhina P. Espaillat, Lucille Clifton, Marilyn Hacker, Wanda Coleman, Patricia Smith, Jericho Brown, and Diane Seuss. The sonnets are accompanied by critical essays that likewise draw together diverse voices, methodologies, and historical and theoretical perspectives that represent the burgeoning field of American sonnet studies.

Contributor List: Essayists
Abdul Ali, Baltimore, MD
Anna Lena Phillips Bell, University of North Carolina, Wilmington
Jodie Childers, Queens, New York
Benjamin Crawford, University of Alabama
Meg Day, Franklin and Marshall College
Donna Denizé, St. Albans School
Michael Dumanis, Bennington College
Jordan Finkin, Hebrew Union College
Rebecca Morgan Frank, Northwestern University
Anna Maria Hong, Mount Holyoke College
Gillian Huang-Tiller, University of Virginia, Wise
Walt Hunter, Clemson University
John James, University of California, Berkeley
Matthew Kilbane, University of Notre Dame
Diana Leca, University of Oxford
Ariel Martino, Colgate University
Nate Mickelson, New York University
Lisa L. Moore, University of Texas at Austin
Timo Müller, University of Konstanz, Germany
Carl Phillips, Washington University in St. Louis
Zoë Pollak, Columbia University
Jonathan F.S. Post, UCLA
Stephen Regan, Durham University, UK
Jahan Ramazani, University of Virginia
Hollis Robbins, University of Utah
Nathan Spoon, Joelton, TN
Marlo Starr, Wittenberg University
Yuki Tanaka, Hosei University, Japan
Tess Taylor, Ashland University
Michael Theune, Illinois Wesleyan University
Eleanor Wakefield, University of Oregon
Lesley Wheeler, Washington and Lee University
Jon Woodson, Howard University emeritus

Contributors List: Poets
Elizabeth Alexander, Agha Shahid Ali, Julia Alvarez, Maggie Anderson, Tacey Atsitty, Charles Bernstein, Ted Berrigan, Jen Bervin, Elizabeth Bishop, Louise Bogan, Ruth Muskrat Bronson, Gwendolyn Brooks, Jericho Brown, Lucille Clifton, Henri Cole, Wanda Coleman, Countee Cullen, William Cullen Bryant, E.E. Cummings, Meg Day, Natalie Diaz, Paul Laurence Dunbar, Alice Moore Dunbar-Nelson, Ralph Waldo Emerson, Rhina Espaillat, Tarfia Faizullah, Robert Frost, torrin a. greathouse, Marilyn Hacker, Robert Hayden, Terrance Hayes, Anthony Hecht, Lynn Hejinian, Leslie Pinckney Hill, Anna Maria Hong, Langston Hughes, David Humphreys, Helen Hunt Jackson, Tyehimba Jess, Helene Johnson, James Weldon Johnson, June Jordan, Douglas Kearney, Richard Kenney, Joan Larkin, Emma Lazarus, Mani Levb, Amy Lowell, Robert Lowell, Nate Marshall, Bernadette Mayer, George Marion McClellan, Brandy Nalani McDougall, Claude McKay, Joyelle McSweeney, Lo Kwa Mei-en, James Merrill, Phillip Metres, Edna St. Vincent Millay, Simone Muench, Marilyn Nelson, Craig Santos Perez, Carl Phillips, Sylvia Plath, Alexander Posey, Lizette Woodworth Reese, Adrienne Rich, Lola Ridge, Muriel Rukeyeser, Kay Ryan, Diane Seuss, Fradel Shtok, Aaron Shurin, giovanni singleton, Patricia Smith, Mary Ellen Solt, Nathan Spoon, Gertrude Stein, Adrienne Su, Lorenzo Thomas, Dunstan Thompson, Natasha Tretheway, Fredrick Goddard Tuckerman, Mona Van Duyn, Ellen Bryant Voight, Margaret Walker, Lucian B. Watkins, Phillis Wheatley, John Wheelwright, Jackie K. White, Walt Whitman, James Wright, Elinor Wylie
Praise For The American Sonnet: An Anthology of Poems and Essays…
"With keen observation and rigorous inquiry, The American Sonnet documents and celebrates American poets' vital contributions to an ancient, global verse form. The poems and essays collected here situate the 'American sonnet' within a centuries-long conversation about how poetry happens on the page and in the mind. By centering diverse, living American poets for whom the sonnet is a way to think deeply about social and political questions, this work offers a timely snapshot of our urgent literary moment. The American Sonnet is a feast of discovery for all readers."—Kiki Petrosino, author, White Blood: A Lyric of Virginia

"The American Sonnet will be embraced by all who've noted the lack of diverse scholarship on the sonnet, particularly regarding historically underrepresented sonneteers. Malech and Smith have deepened and expanded the range of our thinking on this form. I can't wait to teach this book—and be taught by it."—Beth Ann Fennelly, author, Heating & Cooling: 52 Micro-Memoirs
 

"I can't imagine a group of people with whom I would be more excited to talk with about the sonnet than the essayists herein, nor talk more illuminating than their essays. And the sonnets themselves cover whatever the essays don't (more Dunstan Thompson in anthologies, please). This is an ideal anthology."—Shane McCrae, author, Cain Named the Animal

"'We shall not always plant while others reap,' promised Countee Cullen; the robust tradition of sonnets he represented is just one of several in this memorable, thoughtful, useful, and sometimes stellar collection's deeply American braid, reflecting both a panoply of sonnets from U.S.-based writers (and translators!) and a splendid variety of contemporary writings on the form, a modern—but not too modern—pattern designed to make 'the soul swing open' (as Mona Van Duyn puts it) 'on its hinges.' Sonnets themselves train up to the present day and then introduce up-to-date reflections on the form, from major critics' takes to up-and-coming poets' thoughts: Jahan Ramazani on this 'tightly wound global form,' Meg Day's 'Deaf and disabled existence,' Timo Muller on Harlem Renaissance translation, arguments about neuroqueerness and autism in (wait for it) Robert Frost, and about where on Earth this form is going beyond the pentameter, beyond—or is it back to?—the past. 'A sonnet is a mother,' as the great Diane Seuss writes: here are its children."—Stephanie Burt 
 
University Of Iowa Press, 9781609388713, 382pp.
Publication Date: January 12, 2023
About the Author
Dora Malech is associate professor in the writing seminars at Johns Hopkins University, and editor in chief of Hopkins Review. She is author of Flourish, and lives in Baltimore, Maryland.

Laura T. Smith is professor and chair of the English Department at Stevenson University in Maryland. She lives in Baltimore, Maryland.