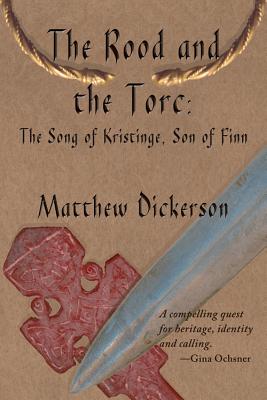 The Rood and the Torc (Paperback)
The Song of Kristinge, Son of Finn
Wings Press, 9781609402983, 416pp.
Publication Date: January 1, 2014
* Individual store prices may vary.
Description
When Kristinge, a young monk at a monastery in southeastern France, discovers he is the son of a famous Frisian hero and king who died in battle six years earlier, he leaves the monastic life and sets out in search of his identity. Traveling with his old mentor Willimond, a monk originally of Lindisfarne, Kristinge's journey brings him first across France to Denmark to search of his mother, and eventually back to his native soil of Friesland. Along the way he meets the young, decadent, and half-crazy Frankish king Clovis who resides in Paris, and the holy Abbess Telchild of the nearby monastery of Jouarre—two of several historical figures woven through the novel. However, what begins as a quest to uncover his heritage and find whether his mother still lives becomes a sort of spiritual journey of discovery at many other levels. Kristinge wrestles with the question: who is he, and who should he become? Is he the monk he has spent the past six years training to be? Or the gifted bard that was trained as a youth to compose songs, sing, and play the harp? Or is he the future king that will unite Friesland and save it from the threat of the increasingly powerful Danes and Vikings on the one side and decaying but still threatening Frankish empire on the other. Compounding his confusion, Kristinge also rediscovers and falls in love with a young woman whom he had known many years earlier as a child: a woman who would be far above his station were he to remain a monk but not above his station were he to become king.
About the Author
Matthew Dickerson is an author, a professor at Middlebury College in Vermont, a scholar of the writings of J. R. R. Tolkien and the fantastic fiction of C. S. Lewis, and an environmental journalist and outdoor writer. He is the author of numerous books, among them A Hobbit Journey: Discovering the Enchantment of J. R. R. Tolkien s Middle Earth, which was short-listed for the Mythopoeic Society s Mythopoeic Scholarship Awards, and the coauthor of From Homer to Harry Potter: A Handbook on Myth and Fantasy; Ents, Elves, and Eriador: The Environmental Vision of J. R. R. Tolkien; and Narnia and the Fields of Arbol: The Environmental Vision of C. S. Lewis. He lives in Bristol, Vermont."
Praise For The Rood and the Torc: The Song of Kristinge, Son of Finn…
"Among building blocks of history, poetic fragments and imagination, Matthew Dickerson constructs a story set in northwestern Europe in the 7th century. Using archeology, translation and an energetic sense of adventure, Dickerson plots the journeys of Kristinge, which the reader follows with confidence in Dickerson's research and artifice. At the end of The Rood and the Torc, Kristinge comments, 'I am content'—and so is the reader in this fine novel."  —Diane Glancy, author, Stone Heart: A Novel of Sacajawea and The Mask Maker
"Rarely does a novel of history—one that summons a distant place and time—seem so contemporary and thoroughly imagined. The Rood and the Torc is an exemplary piece of writing, one that conjures with grace and poetic skill the twilight of the Merovingian Dynasty. Matthew Dickerson has managed to inhale the atmosphere of northern Europe in the seventh century in such a complete way that its bright particulars—the smells, sounds, tastes, and imagery—shimmer in these pages. His lead characters, Kristinge and Aewin, have taken root in my mind, and readers will follow their story with delight. Dickerson writes well, and this memorable tale in his hands is expertly drawn. A marvelous novel by a writer's whose work I've long admired."  —Jay Parini, author, The Last Station and The Apprentice Lover
"Part poetry, part prose The Rood and the Torc is a weave of myth, song, vision, scripture and dream. Dickerson reminds us of the ancient power of story as he writes of Kristinge's compelling quest after his heritage, identity and calling. Moreover, Dickerson's sharp attention to detail and lush description preserves and evokes a bygone time and place well worth inhabiting."  —Gina Ochsner, author, The Russian Dreambook of Colour and Flight and People I Wanted to Be
or
Not Currently Available for Direct Purchase