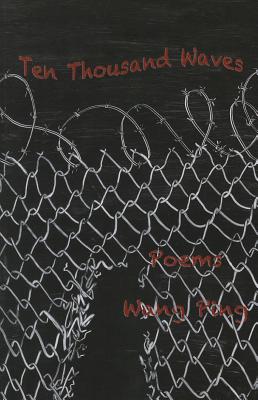 Ten Thousand Waves
Poems
Paperback

* Individual store prices may vary.
Description
Looking at a wide swath of Chinese history and literature, this collection examines various issues stemming from immigration to America. Wang Ping conveys the voices of centuries of farmers and factory laborers, revolutionaries, writers, artists, and craftsmen. She has a unique gift for telling small stories with powerful emotional effects. The titular poem, "Ten Thousand Waves," was inspired by a tragedy that occurred on February 5, 2004. More than 20 Chinese laborers drowned in Morecambe Bay, England, when they were caught by an incoming tide. They were collecting cockles late in the evening, having been misinformed about the tidal times. The victims were undocumented immigrants, mainly from Fujian Province, China. In 2006, English filmmaker Nick Broomfield directed and produced Ghosts, a dramatic film based on the tragedy at Morecambe Bay. Not long after that, another filmmaker, Isaac Julien, commissioned Ping to write a narrative script for his film on global immigration, Small Boats. When he saw the finished poem, Julien decided to make a film installation specifically on Chinese immigration, which he entitled Ten Thousand Waves, after Ping's poem. Ten Thousand Waves has been featured at the Pace Foundation galleries in San Antonio, Texas, and at the Museum of Modern Art in New York.
Praise For Ten Thousand Waves: Poems…
"This is what the highest poetry is for, a bearing witness that translates, transforms, and humanizes; an act of imaginative creation that is simultaneously one of accurate transcription. In beautiful English that dances between poem and short story, text and documentary film, I am brought close to so many Chinese brothers and sisters in this world. Ten thousand voices that are our one voice. Their desires and despair, their horses and poets, their men and women, their clothes and fingers become part of who I am."  —Fady Joudah, author, The Earth in the Attic
"Science says there is only so much water in our world: the same water recedes, recirculates, ravages, recovers, recultivates, returns, remembers, sometimes redeems. The ten thousand waves of these poems are moved by the countless tongues of those whose suffering and hope crest daily in the water making poison rainbows at their feet, in the dust becoming mud in their lungs, in the earthen jug saving coins for a grandchild's schooling. These poems tell us their water is our water; their waves, our waves. That we must listen. Imagine. Make waves in return."  —Rosemary Catacalos, Poet Laureate of Texas and author, Begin Here and Again for the First Time
"Wang Ping hears voices. Ten Thousand Waves is a collection of ghosts, and the voices of the dead and the living fall from the page into your lap. Her book could be called a snapshot of modern China, but that does not explain the way it supersedes geopolitical or economic definition. This collection shows China from the ground up. Everyone, even the soil, is speaking, and the voices all jostle for position over the background hum of China and America. Wang Ping has brought us all together, even if we don't yet know it."  —Neil Hilborn, author, Clatter
"In her triumphant collection
Ten Thousand Waves
, Wang Ping examines the intersection of economic, political, and environmental forces at a human level, reifying through poetry global issues that might otherwise be reduced to academics. The scars of modern China's land and people are unflinchingly reproduced on the page with a medical accuracy. The human and environmental costs of globalization are impossible to discount when presented with such elegance and artistry." —Angus McLinn, cloudcitypress.com
"An amazing portrait of the economic and physical hardship suffered by so many in modern China, the book lays bare the untenable relationship between the misery and oppression of millions and the luxury afforded a scant number of tourists and elite. . . . Her images and language leave indelible marks on the soul, and the haunting sound of cold waves drowning the hopes of Chinese workers abroad will linger a long time in your ears." —David Bowles, the
Monitor
, McAllen, TX
"[Wang Ping] is a committed yet detached observer, filled by a deep reverence and love for humanity, but also aware of this 'busy monster manunkind' that we are. And she cares, no doubt, for both China and the country that has become her new home; it is a sad, bitter love that seeks to stir and awaken the reader, for she knows that all of us are thrown into an age of turmoil, wars, and fierce competition, where the necessary answer seems to be a clear-minded analysis of the impasses we face." —Andreas Weiland, 
Rain Taxi
"Poetry is a very fluid medium, capable of depicting time and cycles in ways other forms of writing cannot. This collection of poems by Wang Ping manages to capture some of the restless, kinetic energy of both the ocean waves and poetry in a manner that still manages to retain a quiet, elegant wisdom while showing life the way it is." —worldliteraturetoday.org
Wings Press, 9781609403508, 112pp.
Publication Date: April 1, 2014
About the Author
Ping Wang is a translator, a photographer, and an award-winning author of books of fiction, nonfiction, and poetry. She is an English professor at Macalester College and the recipient of the Eugene Kaden Award, the Asian American Studies Award, the Minnesota Book Award, and prizes from the National Endowment for the Arts, the Bush Foundation, the McKnight Foundation and the Loft Literary Center, the Lannan Foundation, the Vermont Studio Center, the New York State Council for the Arts, and the Minnesota State Arts Board. Her books include Aching for Beauty: Footbinding in China, American Visa, The Dragon Emperor, and Of Flesh & Spirit. Ruthann Godollei is an illustrator who currently teaches printmaking at Macalester College. She has taught courses in two-dimensional design, women's and gender studies, political art, and performance and installation art. They both live in St. Paul, Minnesota.
or
Not Currently Available for Direct Purchase