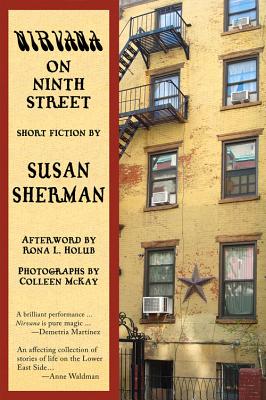 Nirvana on Ninth Street (Paperback)
Wings Press, 9781609404079, 112pp.
Publication Date: October 1, 2014
* Individual store prices may vary.
Description
Set in the 1960s and 70s, Nirvana on Ninth Street is loosely based on residents who lived on and near Ninth Street between Avenues B and C in Manhattan, in what is now known as the East Village, during an extraordinary period when the area was a mecca of political radicalism and avant-garde poetry, music, and art. Rachel, a wholly fictitious character, ties the vignettes together. She is a woman who lives largely in a world of her own creation, remembering people from her past who live once again through her imagination. This book is the theater of the absurd, a comedy of errors, and brutal realism all rolled into one delightful, poignant, and sometimes tragic fantasy.
About the Author
Susan Sherman is a poet, a playwright, an essayist, an editor, and a cofounder of IKON magazine who also opened IKONbooks, a bookstore which served as a cultural and movement center. She has had 12 plays produced off-off-Broadway, has published seven collections of poetry, and is the author of the memoir America's Child: A Woman's Journey through the Radical Sixties. Her work has been published in many periodicals and anthologies, including the American Poetry Review and the Nation. Rona L. Holub is a historian, a teacher, and the director of the Women's History Graduate Program at Sarah Lawrence College. She specializes in women's history, urban/immigrant history, especially that of New York City. She serves on the board of All Out Arts, Fighting Prejudice Through the Arts, and is a licensed New York City Tour Guide. Colleen McKay, is a photographer whose work has been featured on book covers and exhibited in such venues as the Henry Street Playhouse. She is the former staff photographer for IKON magazine. They all live in New York City.
Praise For Nirvana on Ninth Street…
"A brilliant performance . . . Sherman has evoked the untamed spirit of the Lower East Side and of the dreamers who live there. They love, make art, and protest as the Vietnam War rages and the sexual revolution takes root. Nirvana on Ninth Street is pure magic, a gripping exploration of the mysteries of the human heart."  —Demetria Martínez, American Book Award winner, author, Mother Tongue and Block Captain's Daughter
"Meet a cast of humble, endearingly human and engaging characters in Susan Sherman's Nirvana on Ninth Street, an affecting collection of stories of life on the Lower East Side in the 60s and just a bit beyond. It's a short slice of creative time, through the eyes of this author who knew it well. Relationships, pets, political agonies, escape artists, woodworkers, poets all coexist. The identities and complications of people in a neighborhood of flux and change are emotionally present and very much alive."  —Anne Waldman, distinguished professor of poetics, Naropa University
"Nirvana's characters weave around each other, their singular histories intertwined in the fabric of the street they share. The Lower East Side lives, breathes, grows into the East Village, Sherman's sympathy never wavering, and Colleen McKay's photos and Rona Holub's Afterword emphasizing that these fictions have a real home. A unique, charming book."  —Hettie Jones, author, How I Became Hettie Jones
"A very readable book that brings back many memories."  —Samuel R. Delany, Science Fiction and Fantasy Writers of America Grand Master
"As with [Delmore] Schwartz, Sherman uses the neighborhood as a setting, not for realistic sketches, but for ingenious parables . . . . Sherman is a master at writing adult fairy tales, allegories done in a lapidary style about crushed hearts and roses." —Jim Feast, Rain Taxi
or
Not Currently Available for Direct Purchase