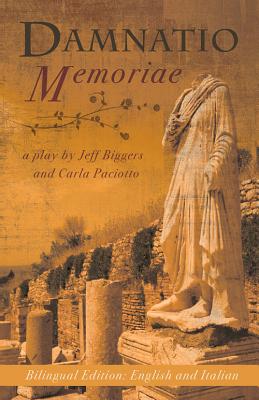 Damnatio Memoriae (Paperback)
a play / una commedia
Wings Press, 9781609404611, 186pp.
Publication Date: September 1, 2015
* Individual store prices may vary.
Description
Damnatio Memoriae explores the role of the theatre amid the conflicts of immigration, human rights, citizenship, family, and legacy. From the clash of two theatre troupes on stage—one Italian, and the other composed of foreign actors—a new play emerges, revealing the history of Ancient Rome, its forgotten emperors, entangled cultural heritage, and today's unfolding stories on the Mediterranean Sea.
About the Author
Jeff Biggers is the American Book Award–winning author of several works of history and memoir, including State Out of the Union: Arizona and the Showdown Over the American Dream, which was selected by Publishers Weekly as a top ten social science book in 2012. His stories have appeared on National Public Radio, and in the Atlantic, the New York Times, and the Washington Post, among others. Author and performer of original monologues, his play Across the Stones of Fire, toured nationally, and won the Greener Planet Award at the Planet Connections Theatre Festivity in New York City. Carla Paciotto is a professor at Western Illinois University, where she teaches bilingual/ESL education and language policy and planning. She is the author of several books in her native Italian.
Praise For Damnatio Memoriae: a play / una commedia…
"Provocative, witty, and original."  —Henry Louis Gates, Alphonse Fletcher University professor, Harvard University, author, Life Upon These Shores
"The stage for Damnatio Memoriae may be set in Ancient Rome, but its powerful and often laugh-out-loud story of the perils of migration and memory transcends our modern borders and times. Timely, and timeless, Damnatio Memoriae pulls back the curtain on immigration realities in Europe—and the United States." —Reyna Grande, author, The Distance Between Us 
"Damnatio Memoriae juxtaposes tales from the ancient world with stories as urgent as tomorrow's headlines. In a timeless examination of human rights, human dignity, and what it truly means to be called citizen, the play reveals forgotten stories while bringing to life the dilemmas and conflicts of our modern world, reminding us that, in so many ways, they are one and the same."  —Rilla Askew, author, Kind of Kin