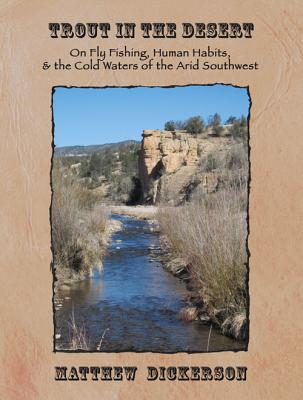 Trout in the Desert (Hardcover)
On Fly Fishing, Human Habits, and the Cold Waters of the Arid Southwest (Heartstreams)
Wings Press, 9781609404857, 96pp.
Publication Date: October 1, 2015
* Individual store prices may vary.
Description
Matthew Dickerson takes his readers from tiny mountain streams in the southern Rockies of New Mexico to the mighty Colorado River at the head of the Grand Canyon, to the Hill Country of Texas, exploring these various waters that manage to hold cold-loving trout in the midst of the hot desert landscapes of the American southwest. This lovingly described journey brings us through Dickerson's own life of discovery and his love of fly fishing, trout, and the rivers where trout live. Though neither an historical nor a scientific text, the writing is informed by both. The book is illustrated by original prints from Texas artist Barbara Whitehead.
About the Author
Matthew T. Dickerson is an author, a professor at Middlebury College in Vermont, a scholar of the writings of J. R. R. Tolkien and C. S. Lewis, and an environmental journalist and outdoor writer. Dickerson's first novel, The Finnsburg Encounter, was followed by a sequel, The Rood and the Torc: The Song of Kristinge, Son of Finn. From 2002 through 2014, Dickerson directed the New England Young Writers Conference.
Praise For Trout in the Desert: On Fly Fishing, Human Habits, and the Cold Waters of the Arid Southwest (Heartstreams)…
"If Matthew Dickerson's paean to the cold waters and elusive fish of the American southwest were not so beautifully rendered you might be tempted to put it down, get out your rod, and step into the nearest stream. But Trout In The Desert will stop you in your tracks. It is not only a splendid testament to one man's passion, but an enchanting evocation of a landscape's unfolding secrets." —Sue Halpern, regular contributor to The New Yorker, author of A Dog Walks Into a Nursing Home: Lessons in the Good Life from an Unlikely Teacher
"This work of narrative nonfiction weaves the author's personal experiences fly fishing for trout in New Mexico, Arizona and Texas with scientific and historical background on the fish and its human-altered ecosystems . . . . [The author's] objectives included entertaining readers with his stories and scenes, raising awareness and concern about the fragility of environments such as the Southwest and the ecological consequences of human actions, and motivating more environmentally responsible individual and societal decision-making." —Julia John, Addison Independent
"The book recounts experiences chasing, observing, and admiring (often elusive) trout in the American southwest—Arizona, New Mexico, and Texas—while also giving insights into the histories, lives, struggles, and futures of the desert rivers where these fish make their homes." —Gary Engberg, garyengbergoutdoors.com
"Sun-seared Texas and the Southwest are not places you might expect to find cold-water fish such as trout. Yet parts of some rivers and streams remain cold enough to support trout and trout fishing. Even if you don't care for angling, the author of this slim book offers enticing descriptions of life and nature along the narrow, green boundaries between water and dry land." —Si Dunn, Dallas Morning News
"Matthew Dickerson's . . . educational and writing accomplishments are very impressive. So are his fishing skills . . . . It is interesting that a fly fisherman from the relatively small trout streams of New England can adapt to the relatively big waters of the west. While the message is subtle, it does come through that a trout is a trout is a trout. Equally, it comes through that a stream is a stream is a stream, and we humans must treat them with care and respect if we expect them to provide the beauty, thrills and deep joy of which they are capable. This is a good read." —Bill Seibel, Outdoor Guide
or
Not Currently Available for Direct Purchase