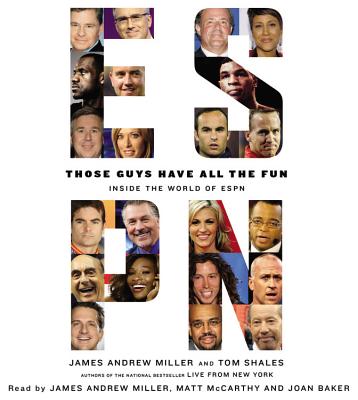 Those Guys Have All the Fun: Inside the World of ESPN (Compact Disc)
Inside the World of ESPN
Hachette Audio, 9781609410759, 14pp.
Publication Date: June 28, 2011
* Individual store prices may vary.
or
Not Currently Available for Direct Purchase
Description
ESPN began as an outrageous gamble with a lineup that included Australian Rules Football, rodeo, and a rinky-dinky clip show called Sports Center. Today the empire stretches far beyond television into radio, magazines, mobile phones, restaurants, video games and more, while ESPN's personalities have become global superstars to rival the sports icons they cover. Chris Berman, Robin Roberts, Keith Olbermann, Hannah Storm, Bill Simmons, Tony Kornheiser, Stuart Scott, Erin Andrews, Mike Ditka, Bob Knight, and scores of others speak openly about the games, shows, scandals, gambling addictions, bitter rivalries, and sudden suspensions that make up the network's soaring and stormy history. The result is a wild, smart, effervescent story of triumph, genius, ego, and the rise of an empire unlike any television had ever seen.
About the Author
Tom Shales won his Pultizer Prize for television criticism in the Washington Post. He is the author of On the Air!, Legends, and Live from New York, and has written for publications such as Esquire, Playboy, Life, Interview, among others. He lives in McLean, Virgina. James Andrew Miller is the author of Running in Place: Inside the Senate and Live from New York. He has also written for the New York Times, Life, and Newsweek, in addition to numerous projects for television and motion pictures. He lives in Pennsylvania.
Advertisement