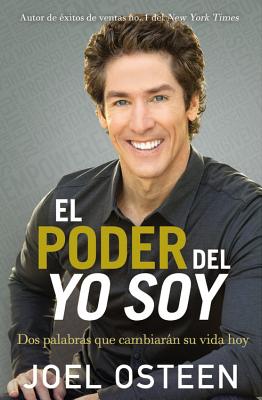 El poder del yo soy (Paperback)
Dos palabras que cambiarán su vida hoy
FaithWords, 9781609418328, 288pp.
Publication Date: October 6, 2015
* Individual store prices may vary.
Description
Tome las riendas de su vida con dos palabras simples - YO SOY.


En este nuevo e innovador libro, el reconocido autor de superventas Joel Osteen, revela una simple pero profunda verdad: su forma de hablar sobre sí mismo puede determinar su destino. Con sus palabras, usted controla su éxito o fracaso.
De modo que cuando usted vaya a través del día diciendo:
"Soy bendecido"... las bendiciones le perseguirán.
"Soy talentoso"... los talentos le seguirán.
"Soy saludable"... la salud se dirigirá hacia usted.
"Soy fuerte"... la fuerza le seguirá la pista.
Cuando usted aprende a aprovechar el poder del YO SOY, descubrirá habilidades únicas y ventajas que no sabía que tenía. Usted construirá la confianza en sí mismo para enfrentar cualquier obstáculo que se le presente. Invitará bendiciones inimaginables en su vida. Lo mejor de todo, usted se convertirá en quien Dios lo hizo ser, una increíble obra de arte original elegida por el Dios Altísimo para hacer grandes cosas.
About the Author
JOEL OSTEEN is the author of six #1 New York Times bestsellers. He is the senior pastor of America's largest congregation, Lakewood Church in Houston, Texas. More than 45,000 people attend services there every weekend. His televised messages are seen by more than 10 million viewers each week in the United States, and millions more in 100 nations around the world. His 24-hour channel on SiriusXM Satellite Radio and millions of social media followers have prompted numerous publications to name him as one of the most influential Christian leaders in the world. He resides in Houston with his wife, Victoria, and their children. You can visit his website at www.joelosteen.com.