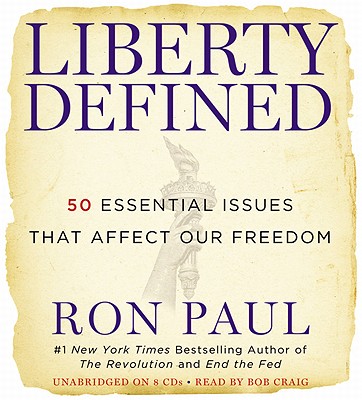 Liberty Defined
50 Essential Issues That Affect Our Freedom
CD-Audio

* Individual store prices may vary.
Other Editions of This Title:
Digital Audiobook (4/18/2011)
Hardcover, Large Print (4/19/2011)
Paperback (1/23/2012)
Description
In Liberty Defined, congressman and #1 New York Times bestselling author Ron Paul returns with his most provocative, comprehensive, and compelling arguments for personal freedom to date.

The term "Liberty" is so commonly used in our country that it has become a mere cliche. But do we know what it means? What it promises? How it factors into our daily lives? And most importantly, can we recognize tyranny when it is sold to us disguised as a form of liberty?

Dr. Paul writes that to believe in liberty is not to believe in any particular social and economic outcome. It is to trust in the spontaneous order that emerges when the state does not intervene in human volition and human cooperation. It permits people to work out their problems for themselves, build lives for themselves, take risks and accept responsibility for the results, and make their own decisions. It is the seed of America.

This is a comprehensive guide to Dr. Paul's position on fifty of the most important issues of our times, from Abortion to Zionism. Accessible, easy to digest, and fearless in its discussion of controversial topics, Liberty Defined sheds new light on a word that is losing its shape.
Grand Central Publishing, 9781609419073
Publication Date: April 19, 2011
About the Author
Ron Paul is a former twelve-term congressman from Texas and a #1 New York Times bestselling author. He has devoted his political career to the defense of individual liberty, sound money, and a non-interventionist foreign policy. Judge Andrew Napolitano once called him "the Thomas Jefferson of our day."

After serving as a flight surgeon in the U.S. Air Force in the 1960s, Dr. Paul moved to Texas to begin a civilian medical practice, delivering over four thousand babies in his career as an obstetrician. He served in Congress from 1976 to 1984, and again from 1996 to 2012. He and Carol Paul, his wife of fifty-one years, have five children, eighteen grandchildren, and one great-grandchild.

Ron Paul, the New York Post once wrote, is a politician who "cannot be bought by special interests."
or
Not Currently Available for Direct Purchase