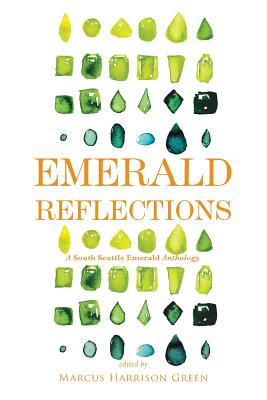 Emerald Reflections 2 (Paperback)
A South Seattle Emerald Anthology
Vertvolta Press, 9781609441326, 218pp.
Publication Date: May 3, 2018
* Individual store prices may vary.
Description
Seattle's most diverse community has a story to share with the world, a narrative of resistance, resilience, hope, tragedy, triumph, and passion.
It's a story that can only be told by an area where Tagalog, and Tigrinya can flow as fluently from corner store door steps as English.
Explore in this collection experiences as varied and unique as the people who grace its streets, but coalescing in one wide-ranging story: The People of South Seattle.
Featuring work by
* Lola E Peters * Ijeoma Oluo * Nakeya Isabell * Georgia S. McDade * Nikkita Oliver * Gyasi Ross * Monica Hoang * Alvin "LA" Horn * Sharon H Chang * Hanna Brooks Olsen * Toshiko Grace Hasegawa * Rell Be Free * Alex Gallo-Brown * K. D. Senior * Mike Leitner * Lee Claiborne * Kayla Blau * Tiffani Jones * Isaac Robinson * Harvey Garvey * Nasra Ali * Namaka Auwae-Dekker * Gabriella Duncan * ChrisTiana ObeySumner * Rae Rose * Robin Boland * Kiana Davis * Sean Smith * Samira Abbas * Rev. Kelly Dahlman-Oeth * Courtney Weaver * Brian Burgen-Aurand * Laura Humpf * Jon Greenberg * Rollie Williams * Dan Ophardt * Marilee Jolin * Marisa Ordonia * Fathi Karshie * Will Sweger * Kelsey Hamlin * Sharayah Lane * Peter Johnson * Danica Bornstein * Miguel Jimenez