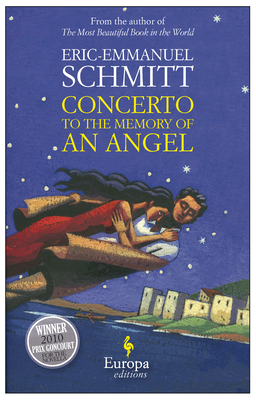 Concerto to the Memory of an Angel (Paperback)
Europa Editions, 9781609450090, 192pp.
Publication Date: May 31, 2011
* Individual store prices may vary.
Description
From Eric-Emmanuel Scmitt, acclaimed author of The Most Beautiful Book in the World and The Women with the Bouquet, comes another collection of richly imagined narratives that consolidate his position as a master of the novella. 

In this collection's opening story, a woman with more skeletons in the closet than most falls in love with a parish priest, to whom she confesses her sins. But her motives and her intentions are anything but honorable or pious. The title story is the tale of two friends and rivals whose differences will at first lead to a terrifying and near fatal accident, and then to a vendetta lasting a lifetime. In "The Return," while away at sea a father is told that one of his four daughters has died but not which. He will ask himself the question no father should have to ask: which child would he want dead. His long ruminations will lead him to a realization of his failings as a man and a father and ultimately toward touching transformation. "Love at the Élysée Palace" is as fine a short story as any in contemporary literature, and one that treats the themes of love, marriage, and forgiveness with superb delicacy and remarkable tenderness.

In this vivid collection, Schmitt writes about regret and redemption, about the roles of love and memory in our lives, all with a lightness and compassion that is as rare as it is inspiring.
About the Author
Eric-Emmanuel Schmitt is one of Europe's most popular and acclaimed authors and playwrights. His many novels and story collections include The Most Beautiful Book in the World (Europa, 2009), Oscar and the Lady in Pink, and Monsieur Ibrahim and the Flowers of the Koran. A keen music lover, Schmitt has also translated into French The Marriage of Figaro and Don Giovanni from the original Italian. In 2001, he was awarded the French Academy's Grand Prix du Théâtre. Schmitt divides his time between Paris and Brussels.

Alison Anderson's translation of Europa Editions include novels by Sélim Nassib, Amélie Nothomb, and Eric-Emmanuel Schmitt. She is the translator of Muriel Barbery's bestselling novel The Elegance of the Hedgehog.
Praise For Concerto to the Memory of an Angel…
Praise for Concerto to the Memory of an Angel


"A wonderful book of remarkable everyday heroes who will haunt readers for a long time to come."
—L'Express

"Concerto to the Memory of an Angel should be on every philosophy student's reading list. It cannot fail to delight anyone who likes their literature 'with accompaniment' (it really does make a superb concerto), as well as all those—and they are many—who ponder the meaning of life...A small masterpiece."
—Le Parisien 

"Moral fables, gilded mini-legends: Eric-Emmanuel Schmitt's stories are fiendishly efficent. Schmitt is a prodigious storyteller with a style both elegant and assured."
—Les Echos 
or
Not Currently Available for Direct Purchase