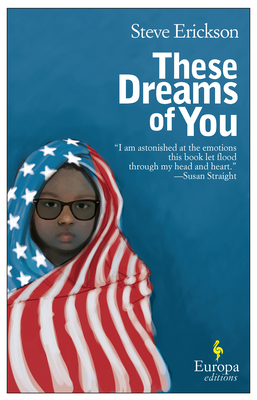 These Dreams of You (Paperback)
Europa Editions, 9781609450632, 309pp.
Publication Date: January 31, 2012
* Individual store prices may vary.
Description
At once immediate and epic, funny and devastating, this new novel by the author of Shadowbahn is a transcendent dispatch from the intersection of art and politics, passion and memory. 

One November night in a canyon outside L.A., Zan Nordhoc—a failed novelist turned pirate radio DJ—sits before the television with his small, adopted black daughter, watching the election of his country's first black president, Barack Obama.  

In the nova of this historic moment, with an economic recession threatening their home, Zan, his wife and their son set out to solve the enigma of the little girl's life. When they find themselves scattered and strewn across two continents, a mysterious stranger with a secret appears, who sends the story spiraling forty years into the past.

Sweeping from 1960s London and '70s Berlin to 21st Century California, and the beginning of civilization–Ethiopia, These Dreams of You chronicles not only a family struggling to salvage its bonds but a twelve-year-old boy readying himself for what the years to come hold.
About the Author
Steve Erickson is the author of eight previous novels including Zeroville and Our Ecstatic Days, as well as two nonfiction books about politics and popular culture that have been published in ten languages around the world. Currently he's the editor of the national literary journal Black Clock, which is published by the California Institute of the Arts where he teaches, and he is also a film critic at Los Angeles magazine, for which he's been nominated for the National Magazine Award. He has received an American Academy of Arts and Letters award in literature and a fellowship from the John Simon Guggenheim Foundation.
Praise For These Dreams of You…
Praise for These Dreams of You

"I am astonished at the emotions this book let flood through my head and heart."
—Susan Straight

"As unique and vital and pure a voice as American fiction has produced."
—Jonathan Lethem

"One of the most important writers of his generation. Erickson's work feels like right here, right now. Against it, most new fiction read like it was written by stenographers."
—Atlanta Journal-Constitution

"Erickson is a gambler, one of the fabulous mythmakers who are needed in these times of deprivation of the imagination."
—New York Times Book Review

"Marked by familiar coordinates but always in fantastic light... Erickson's writing seems both heroic and necessary."
—The San Francisco Chronicle

"Steve Erickson has that rare and luminous gift for reporting back from the nocturnal side of reality."
—Thomas Pynchon

"There's no one in the world writing like Steve Erickson."
—Los Angeles Times Book Review

"Over his entire career Erickson has challenged readers with a fiercely intelligent and surprisingly sensual brand of American surrealism."
—Washington Post

"It's simply impossible to explain the intent and direction of this funny, disturbing, daring and demanding novel—Erickson's best. The set pieces in Zeroville are particularly breathtaking."
—The New York Times

"Erickson has established a reputation as a daring, lyrical writer with a strong following among other novelists and a distinctive brand of cultural taste: West Coast, genre-bending and earnestly experimental."
—LA Times

"With this book, set against the backdrop of Obama's ascendancy to the presidency, Erickson weaves a complex and imaginative literary tapestry about family and identity."
—Kirkus (starred review)

"Told in a series of short, punchy sections, Erickson expertly weaves together themes of music, politics, and idealism in a modern story where preconceptions are outdated."
—Publishers Weekly
Coverage from NPR