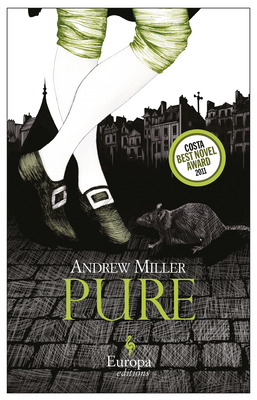 Pure
Paperback

* Individual store prices may vary.
Other Editions of This Title:
MP3 CD (5/29/2012)
Compact Disc (5/29/2012)
Paperback (1/1/2012)
Description
Winner of the Costa "Best Book of the Year" and "Best Novel" Award 2011

Andrew Miller's new novel is vividly realized fiction played out against the rich caophony of Paris on the cusp of the French Rveolution. 

Jean-Baptiste Baratte–an ambitious young engineer of modest origin–arives in the capital in 1785, charged by the King's minister with emptying the overflowing cemetery of Les Innocents, an ancient site whose stench is poisoning the neighborhood's air and water.

At first Baratte sees his work as a chance to clear the burden of history, a fitting task for a modern man of reason. But before long he begins to suspect that the destruction of the cemetery might be a prelude to his own fate and to the demise of the social order.

Baratte cannot forsee the dramas and calamities his task will trigger, or the incident that will transform his life. As unrest against the court of Louis XVI mounts, the engineer realizes that the future he had planned may no longer be the one he wants. His assignment becomes a year of relentless effort, a year of assault and sudden death. A year of friendship, too, and of desire and love. A year unlike any other he has lived.
Praise For Pure…
Praise for Pure

"Some stories are too wonderful–too filled with wonders–to set in the present. They can't really be called historical fiction because they don't serve history so much as plunder it to invent what might have been. Such is the case with Pure."
—The New York Times Book Review

"This smart reimagining of the groundwork just before France burst into flames is something to savor."
—The Washington Post

"Andrew Miller...is another Hilary Mantel. Pure [is] elegantly written and intricately constructed, with an ending that, like those mirrors at Versailles, cleverly reflects the beginning."
—The New York Times

"Such is a wonder of good fiction, when a topic and a tale of which we are ignorant can–through simple ink symbols on paper–acquire an urgency that casts the rest of our daily rounds in shadow."
—Cleveland Plain Dealer

"One of the most brilliant aspects of Miller's writing is his ability to question unobtrusively, through style alone, sentimentality about both life under the Bourbons and the creative destruction of revolution...he has an instinctive knack for casting bright similes, never overextended, that ripple suggestively...The writing throughout is crystalline, uncontrived, striking and intelligent. You could call it pure."
—Jonathan Beckman, Literary Review

"Every so often a historical novel comes along that is so natural, so far from pastiche, so modern, that it thrills and expands the mind. PURE is one ... Miller's newly minted sentences are arresting, often unsettling and always thought-provoking. Exquisite inside and out, Pure is a near-faultless thing: detailed, symbolic and richly evocative of a time, place and man in dangerous flux. It is brilliance distilled, with very few impurities."
—The Telegraph

"Quietly powerful, consistently surprising, Pure is a fine addition to substantial body of work...pre-revolutionary Paris is evoked in pungent detail...By concentrating on the bit players and byways of history, Miller conjures up an eerily tangible vanished world."
—Suzi Feay, Financial Times

"Murder, rape, seduction and madness impel this elegant novel...Within this physical and political decay, Miller couches the heart of the matter: how to live one's life with personal integrity, with a purity not so much morally unblemished as unalloyed with the fads and opinions of society...Miller populates Baratte's quest for equanimity with lush and tart characters, seductively fleshed out, who collectively help to deliver the bittersweet resolution of his professional and personal travails."
—James Urquhart, Independent

"Very atmospheric...Although the theme may sound macabre, Miller's eloquent novel overflows with vitality and colour. It is packed with personal and physical details that evoke 18th-century Paris with startling immediacy. Above all he brings off that difficult trick of making the reader care about an unsymapthetic character. If you enjoyed Patrick Suskind's Perfume, you'll love this."
—Daily Express

"It is an audacious novelist who can so knowingly prefigure the symbolism at the heart of his own work without threatening the success of the entire enterprise. It is fortunate, then, that Miller is a writer of subtlety and skill...Unlike many parables, however, Pure is neither laboured nor leaden. Miller writes like a poet, with a deceptive simplicity - his sentences and images are intense distillations, conjuring the fleeting details of existence with clarity. He is also a very humane writer, whose philosophy is tempered always with an understanding of the flaws and failings of ordinary people...Pure defies the ordinary conventions of storytelling, slipping dream-like between lucidity and a kind of abstracted elusiveness... As Miller proves with this dazzling novel, it is not certainty we need but courage."
—Clare Clark, Guardian

"Almost dreamlike, a realistic fantasy, a violent fairytale for adults."
—Brian Lynch, Irish Times

"Enthralling...superbly researched, brilliantly narrated and movingly resolved."
—Robert McCrum, The Observer
Europa Editions, 9781609450670, 336pp.
Publication Date: May 29, 2012
About the Author
Andrew Miller's first novel, Ingenious Pain, won the James Tate Memorial Prize for Fiction. He has since written five novels including Casanova and Oxygen, which was a finalist for the Whitbread Award and the Booker Prize in 2001. He lives in Somerset England.