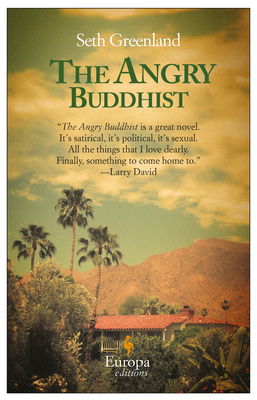 The Angry Buddhist
Paperback

* Individual store prices may vary.
Description
Seth Greenland's timely novel is a smart and darkly amusing dissection of the American political establishment in all its sordid glory. Set in the hardscrabble California desert community of Desert Hot Springs and the manicured enclave of Palm Springs, the novel lives at the intersection of the political dissaray of today.

In this sun-blasted territory, with its equally arid culture, a fiercely contested congressional election is in progress. The wily incumbent, Randall Duke, is unburdened by ethical considerations and his opponent, Mary Swain, is a sexy and well-financed newcomer who does not have a firm grip on American history or elemental economics.

As election day nears, the exploitable backrounds of these two canadidates are teased out by the desire to one-up each other. The campaign gets carried away when the personal escapades of friends and family spill over into the election, including lesbian love triangles, and sudden spititual enlightenment.  

The Angry Buddhist convincingly explores mendacity in its modern American forms: contemporary politics, middle class sexual mores, the criminal justice system, and the limits and cost of filial love. Greenland is able to mix satire with crime to produce humor that is vibrantly caustic and subjects that are alarmingly authentic.
Praise For The Angry Buddhist…
Praise for Seth Greenland

"The Angry Buddhist is a great novel. It's satirical, it's political, it's sexual. All the things that I love dearly. Finally, something to come home to."
—Larry David

"Recalls the more good natured novels of Evelyn Waugh...Shining City is very funny...readers will be seduced by the combination of narrative skill and sharp-pointed wit."
—Los Angeles Times

"The Bones is savagely funny...one of the most perceptive and flat-out hilarious novels about L.A.'s brutal Darwinism, a book that makes you cringe through your laughter-induced tears."
—San Francisco Chronicle
Europa Editions, 9781609450687, 400pp.
Publication Date: April 24, 2012
About the Author
Seth Greenland is the author of the novels The Bones and Shining City. His first play, Jungle Rot, was the winner of the Kennedy Center/American Express Fund for New American Plays Award, the American Theater Critics Association Award and anthologized in Best American Plays. He was a writer-producer on the Emmy-nominated HBO series Big Love and one of the original bloggers on the Huffington Post. His work has appeared in the Los Angeles Times and the literary journal Black Clock. He lives in Los Angeles with his wife and two children.