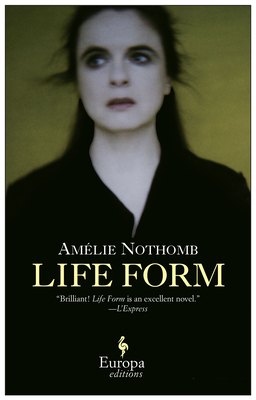 Life Form (Paperback)
Europa Editions, 9781609450885, 125pp.
Publication Date: February 5, 2013
* Individual store prices may vary.
Description
Life Form, Amélie Nothomb's nineteenth novel is a smart, singular, surreal novel about personality and philosophy, trauma and healing, solitude and human connection from one of the most widely read and beloved authors working today. 

One morning, the heroine of this book, a famous author named Amélie Nothomb, receives a letter from a fan, Melvin Mapple, an American soldier stationed in Iraq. Horrified by the endless violence around him, he takes comfort in eating. He eats and eats until his ever-growing bulk starts to suffocate him and he can barely fit into his oversized clothes. Disgusted with himself, but unable to control his eating, he labels his excess self Scheherazade as a type of coping mechanism.

Repulsed but also fascinated by Mapple's story, Nothomb begins to exchange letters with him. She opens up to Melvin about the challenges of being in the public spotlight and about her artistic processes. An epistolary friendship of sorts develops, one that delves into universal questions about human relationships. The bond between Mapple and Nothomb will undergo a sea of change when the novelist discovers bizarre facts lurking behind Mapple's complex personal story.

Life Form is a riveting and topical novel by an author who never fails both to delight and to surprise her readers.
About the Author
Amélie Nothomb's books have been translated into thirty-nine languages. She is the winner of countless literary prizes, including the 2008 Grand Prix Giono. She was born in Japan of Belgian parents in 1967 and now lives in Paris. 

Alison Anderson's translations for Europa Editions include Muriel Barbery's bestseller The Elegance of the Hedgehog, and the Indie Bound bestseller, A Novel Bookstore by Laurence Cossé.
Praise For Life Form…
Praise for Life Form

"Brilliant! Life Form is an excellent novel."
—L'Express

"In Life Form Nothomb has chosen, with a certain glee, to blend the fictional and the biographical by utilizing an art form in which she excels: letter writing."
—Le Monde

"Amélie Nothomb demonstrates a real oppenness towards others, to their differences and their shortcomings."
—Le Temps (Switzerland)

"Nothomb is whimsical and fanciful, excessive and eccentric."
—Le Soir Magazine

Praise for Amélie Nothomb

"[Tokyo Fiancée is] a spare, elegant novel."
—New York Times Books Review (Editors Choice)

"Tokyo Fiancée is a light, lovely little romance, winnigly told and entertaining."
—Financial Times

"Amelie Nothomb is such an utter astonishment, the shock of reading her for the first time is like realizing you have inadvertently missed a whole movement, or century, in the scheme of things"
—Scotland on Sunday

"Her will-mannered prose, her clear and accomplished style, her aristocratic culture of a bygone day (Nothomb is the daughter of a Belgian diplomat)- perhaps this is why she has touched such a large audience in France, nostalgic for a time when French literature was preeminent among the arts and in the world"
—Boston Review

"Read Amelie Nothomb! It's a bit like opening a bag full of surprises."
—Le Globe-Lecteur
or
Not Currently Available for Direct Purchase