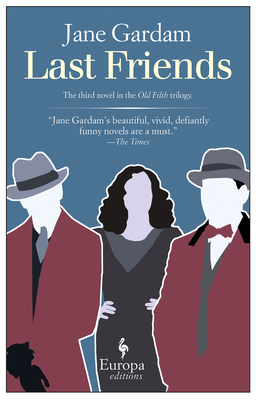 Last Friends (Paperback)
Europa Editions, 9781609450939, 304pp.
Publication Date: April 2, 2013
Description
Book Three in Jane Gardam's Old Filth trilogy. Last Friends is the third and concluding novel in the highly praised trilogy that began with Old Filth and continued with The Man in the Wooden Hat. The haunting first novel was the story of a decades-long marriage that stretched from the immediate post-World War II period into the opening of the twenty-first century. Sir Edward Feathers (Old Filth) was a captivating character: so clever, so triumphantly his own man, so wounded by his dreadful childhood. The Man in the Wooden Hat was Betty's story. She and Sir Edward met and married in Hong Kong. She was surdy and dependable, the exemplary wife of an eminent lawyer. She owned two exceptional strands of pearls given to her by two men, who desired her and despised each other with equal authority. This second, equally witty, novel weighed the difference between marriage and romance with great subtlety and understanding. Last Friends is Terence Veneering's turn. His beginnings were not those of the usual establishment grandee. Filth's hated rival in court and in love is the son of a Russian acrobat marooned in the English midlands and a local girl. He escapes the war and later emerges in the Far East as a man of panache and fame. The Bar treats his success with suspicion: where did this handsome, brilliant Slav come from? This exquisite story of Veneering, Filth, and their circle tells a bittersweet tale of friendship and grace and of the disappoinments and consolations of age. They are all, finally, each other's last friend as this magnificent series ends with the deep and abiding satisfaction that only great literature provides.
About the Author
Jane Gardam is the only writer to have been twice awarded the Whitbread Prize for Best Novel of the Year. She is winner of the David Higham Prize, the Royal Society for Literature's Winifred Holtby Prize, the Katherine Mansfield Prize, and the Silver Pen Award from PEN. Her novels include: God on the Rocks, shortlisted for the Booker Prize; Old Filth, a finalist for the Orange Prize; The Man in the Wooden Hat, finalist for the Los Angeles Times Book prize, and Last Friends, finalist for the Folio Award. She lives in the south of England, near the sea.
Advertisement