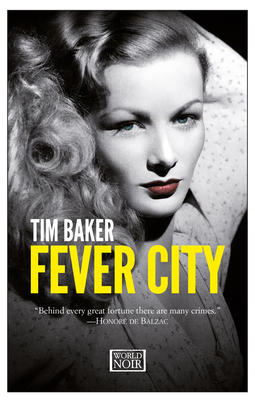 Fever City
Paperback

* Individual store prices may vary.
Description
2017 Shamus Award Finalist

If you took James Ellroy at his most imaginative and Oliver Stone at his most conspiratorial, and mixed them up in a supersized martini shaker, you would produce the vivid writing, explosive events, and irresistible entertainment of Fever City.

The story kicks off in 1960 Los Angeles, with the daring kidnapping of the child of one of America's richest men. It then darts back and forth between a private detective's urgent search for the child, the saga of a notorious hit man in the days leading to JFK's assassination, and the modern-day story of a skeptical journalist researching the still-active conspiracy theories of the 50s and 60s, with the aim of debunking them. Just as the detective discovers that the kidnapping is a crime much larger than he imagined, and the hit man finds himself caught in a web that is astonishingly complex, the journalist discovers-to his horror, dismay, and even his jeopardy-that the conspiracy theories might well be true.

With expert pacing, sparkling dialogue, and plot twists that will keep readers entranced, Tim Baker's irrepressible debut novel is a joy ride through classic noir traditions, updated with a surprisingly contemporary sensibility.
Praise For Fever City…
Praise for Fever City

"In this ambitious debut Baker gives us a bare-knuckle take on the president's murder and adds two other plotlines, connecting them solidly with the equivalent of a jab-jab-cross combination."
—The New York Times Review of Books

"Baker tells his story in three related plots set in 1960, 1963, and 2014, and he constantly moves back and forth among them. Keeping up can be a challenge, but it's one repaid by inspired writing, memorable characters and an exhilirating, all but overpowering story."
—Washington Post

"Fever City hits you like a canonball. Baker conjures up a phantasmagorical collision of history, coincidence and conspiracy as the search for a missing boy leads to the dark recesses of the JFK assassination. A turbo-charged, beautifully written noir, Fever City is one of those mind-blowingly ambitious debuts that only comes along once in a great while."
—Stav Sherez, author of Eleven Hours

"Fever City is one of the more remarkable debut noir crime yarns in some years. If you favor the Jason Bourne novels, you will be captured by this richly entertaining book."
—Michele Zackheim, author of Last Train to Paris 
Europa Editions, 9781609452872, 400pp.
Publication Date: May 10, 2016
About the Author
Born in Sydney, Tim Baker moved to Italy in his early 20s and lived in Spain before moving to Paris as director of consular operations at the Australian embassy in France. His short fiction has appeared in books published by Random House and William Collins, his nonfiction in books published by Penguin, and in publications such as Time Out, and Facts on File. He currently lives with his wife and son in the south of France.