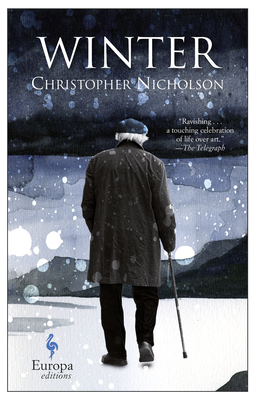 Winter (Paperback)
Europa Editions, 9781609452957, 272pp.
Publication Date: January 5, 2016
* Individual store prices may vary.
Description
A November morning in the 1920s finds an elderly man in his eighties walking the grounds of his Dorchester home, pondering his past and future with deep despondence. That man is the revered novelist and poet Thomas Hardy, and Christopher Nicholson's fictionalized account of the final years of the accomplished writer's life is as engrossing as it is heartbreaking. 

The novel focuses on the true events that occurred around the London theater dramatization of Hardy's acclaimed novel Tess of the D'Urbervilles, including Hardy's hand-picked casting of the young, alluring Gertrude "Gertie" Bugler of The Hardy Players to play Tess. As plans for the play become more concrete, Hardy's interest in Gertie becomes a voyeuristic infatuation, causing him to write some of the best poems of his career. However, when Hardy's reclusive wife, Florence, catches wind of Hardy's desire for Gertie to take the London stage, a tangled web of jealously and missed opportunity ensnares all three characters-with devastating results. 

Told from the perspectives of Hardy, Gertie, and Florence, Nicholson's novel perfectly captures the often-difficult juxtaposition of fledgling hopes and the unfulfilled life. With expert insight into the struggles of both Hardy and Florence, coupled with poetic yet unassuming prose, Winter is certainly on par with the novels of its central character.
About the Author
Christopher Nicholson is a writer, living in England. His latest novel, Winter, was published by Fourth Estate in January 2014. His two earlier novels are The Fattest Man In America (2005) and The Elephant Keeper (2009). The Elephant Keeper was shortlisted for the Costa Novel Award and the Encore Award. A serial adaptation was broadcast as a BBC Radio 4 'Book of the Week'. He has two children, a son and a daughter. For the past twenty-five years he has lived in the countryside on the border between Wiltshire and Dorset.
Praise For Winter…
Praise for Winter

"Christopher Nicholson's elegiac, beautifully restrained novel, a meditation on aging, marriage and loss, fictionalizes a well-known period in Thomas Hardy's life."
—Carmela Ciuraru, The New York Times 

"As should be evident, the complexly layered "Winter" is a book for grown-ups, one that finds the acme of human happiness in a young mother looking out at a starry winter's night, while she holds her baby in her arms."
—Michael Dirda, Washington Post

"Winter is quietly intelligent and compassionate, but what stands out most is that it is gorgeously, gorgeously written in prose so elegantly crafted that it becomes, paradoxically, almost invisible. it never shouts, never startles, just moves lithely along with an almost miraculous sense of rightness."
—The Minneapolis Star Tribune 

"It is brave to set yourself up for comparison with an author as great as Hardy, but this poetic and unashamedly literary book is good enough not to be embarassed by the company it seeks to keep."
—Paul Dunn, The Times (UK)

"Hardy's story becomes a meditation on love, regret, and an elusive yearning for happiness. Elegant, lyrical, and absorbing"—Kirkus Reviews (Starred Review)

"[Winter] is written in a prose of such quality that one does not notice the quality-to describe it as craftsmanlike doesn't do it justice. It is a prose beyond accomplishment, yet which refuses to astonish, and which is utterly appropriate."—The Guardian

"A gently elegiac tone permeates the novel, with its ravishing, appropriately Hardyesque sense of the intimate connection between landscape and emotion...a touching celebration of life over art."
—The Telegraph 

"Nicholson succeeds in sounding very much like Hardy, with brilliantly realized landscape and settings."
—Booklist
 
"Nicholson's lyrical prose recalls Hardy's own fascination with time and place while humanizing a literary figure known for his obsession with love."
—World Literature Today