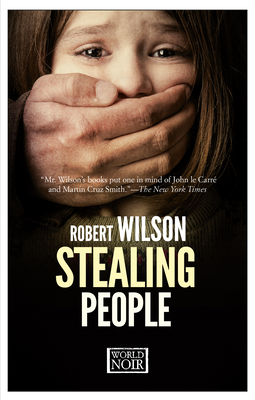 Stealing People
Paperback

* Individual store prices may vary.
Description
Book 3 in the Charles Boxer Series

Charlie Boxer, an expert at solving kidnappings, and his ex-wife Detective Mercy Dunqah are tasked with taking down a bold and heartless crime syndicate responsible for the abduction of six children.
 
Two years after the events of You Will Never Find Me (Europa, 2015), Boxer is contemplating retirement. He has found a measure of contentment even as a mystery from his own past gnaws at his sense of justice. Mercy balances a complicated personal life with an even more precarious professional one in the woefully under-resourced metropolitan police department. Both are suddenly pulled back into service when six children of wealthy families vanish, taken by a ruthlessly efficient organization with a single astonishing demand. Investigators stymied and time expiring, they seem set on a calamitous course.
 
Trapped, off-balance, and with little left to lose they plunge into a cauldron of warring intelligence agencies, morally destitute billionaires, and human traffickers, coming finally to a fateful Moroccan reckoning that will forever change them.
 
The latest entry in Robert Wilson's acclaimed Charlie Boxer series, Stealing People is both topical and thrilling. Wilson unravels a convincing web of international intrigue in a world where heroism may breed vice and virtue is an accidental byproduct of crime.
Praise For Stealing People…
Praise for Stealing People

"Wilson has created a great character [protagonist- Charlie Boxer] whose emotional trials are exciting to follow. This series looks like it will have legs if the hero can stand any more emotional pummeling."—Kirkus Reviews

"When the chips are down, though (and they always are, in Boxer's world), the protagonist's professional instincts kick in. What remains of the day is saved—though enough intriguing questions remain unanswered for at least one more sequel."—The Wall Street Journal


Praise for Robert Wilson

"Wilson writes with elegant vigor."—The Wall Street Journal
 
"One of the more sophisticated writers in his field."—Kirkus Reviews
 
"Splendid ... Wilson has a talent for digging beneath the skin to explore psychological and emotional nuances."—New York Daily News
 
"Wilson demonstrates, as Graham Greene did long ago, that thrillers are the liveliest most gripping, most through-provoking literary enterprises going today."—LA Times
 
"Few writers - in any genre - can match Wilson's depth of character and plot or his evocation of place."—The Boston Globe
Europa Editions, 9781609453138, 384pp.
Publication Date: June 7, 2016
About the Author
Robert Wilson has lived and worked around the world and now divides his time between the UK and Portugal. He's written many acclaimed crime novels including the CWA Gold Dagger Award-winning A Small Death in Lisbon and the Falcon series, which was recently adapted for television. His first novel featuring Charlie Boxer, Captital Punishment, was shortlisted for the CWA Ian Fleming Steel Dagger Award.