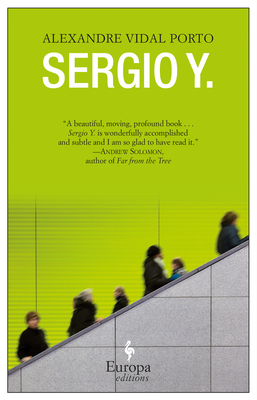 Sergio Y.
Paperback

* Individual store prices may vary.
Description
Winner of the Paraná Literary Prize for Best Novel

Sergio Y. is a prize-winning inspirational work of fiction about gender, identity, self-reinvention, what it means to live a full life, and the search for happiness.

Armando, one of the most renowned therapists in São Paulo, is nearing the end of a long, illustrious career. Against his better judgment he agrees to take on a new patient: Sergio, the teenage son of a wealthy Brazilian businessman. Sergio suffers from malaise and his parents are concerned. But after a number of sessions, Sergio abruptly interrupts his course of therapy following a trip to New York, saying only that he has found his own path to happiness and must pursue it alone. 

Though perplexed, and somewhat annoyed, Armando lets the matter rest without further ado. That is, until he learns from Sergio's mother that the boy has moved to New York and is transitioning. Sergio is becoming Sandra. 

How could he have missed that? Something so big?! An accomplished therapist like him, how could he not have seen...

Armando embarks on a journey to discover the truth about his former patient and about himself. Along the way, he will learn that compassion is sometimes conveyed in the most mysterious ways.

Through understated prose, Sergio Y. approaches the transgender experience from the inside and the outside.
Praise For Sergio Y.…
Praise for Sergio Y.

"A beautiful, moving, profound book...Sergio Y. is wonderfully accomplished and subtle and I am so glad to have read it."
—Andrew Solomon, author of Far from the Tree

"Porto's captivating, impeccably structured novel is a detective story wrapped around a deeper exploration of identity."
—Publishers Weekly, Starred Review

"One of Armando's main aims as a narrator is to complicate the narrative of gender transition, to embrace a certain measure of existential mystery that ties it to other journeys of transformation...he accomplishes this with a sensitivity to nuance and a supple, philosophical expansiveness."
—World Literature Today

"Beautifully told and translated, it explores the limitations of truly knowing another person..."
—Lamda Literary

"Sergio Y. is one of the best books I've read in a long time...I gush about it to everyone I meet."
—Zoë Perry, translator of Paulo Coelho

"With Sergio Y., Alexandre Vidal Porto makes clear why he is one of the essential writers in Brazilian contemporary literature."
—Luiz Ruffato

"Readers will find it impossible to put this book down."
—José Castello
Europa Editions, 9781609453275, 160pp.
Publication Date: May 3, 2016
About the Author
Alexandre Vidal Porto was born in São Paulo. A career diplomat, a Harvard-trained lawyer, and a human rights activist, he writes a regular column for Folha de S. Paulo. His fiction has appeared in some of the most respected literary publications in Brazil and also abroad. Sergio Y. was the winner of the Parana Literary Prize for best novel.

Alex Ladd's translations include The Mystery of Rio, by Alberto Mussa (Europa Editions), Life As It Is by Nelson Rodrigues (Host Publications, 2009), The Asphalt Kiss by Nelson Rodrigues (Nova Fronteira, 2007), and Nestor Campoeira's The Little Capoeira Book (North Atlantic Books). He lives in New York.