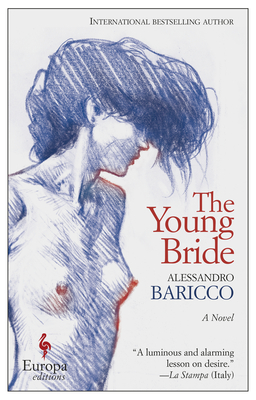 The Young Bride (Paperback)
A Novel
Europa Editions, 9781609453343, 192pp.
Publication Date: July 19, 2016
* Individual store prices may vary.
Description
From international bestselling author, Alessandro Baricco, comes a scintillating and sensual novel about a young woman's ingress into a fantastically strange family.
 
The hand of the young woman in question has been promised to the scion of a noble family. She is to make her preparations for marriage at the family's villa, where the inhabitants never seem to sleep. The atmosphere turns surreal as the days pass and her presence on the family estate begins to make itself felt on her future in-laws.
 
In this erotically charged and magical novel, Alessandro Baricco portrays a cast of mysterious characters who exist outside of the rules of causation as he tells a story, an adult fable, about fate and the difficult job of confronting the Other and creating an Us.
About the Author
Alessandro Baricco, beloved by readers worldwide for his innovative take on magical realism, his atmospheric novels and memorable characters, is one of Italy's bestselling and most critically acclaimed authors. His novels include Silk (Vintage, 1998), An Iliad (Vintage International, 2006), and Mr. Gwyn (McSweeney's, 2014).
Praise For The Young Bride: A Novel…
Praise for The Young Bride

"Mr.Baricco spins it all together into a work of elegance, eroticisim and playful make-believe."
—The Wall Street Journal

"This tale of lost innocence is poignantly told, "written" by a self-aware narrator who seamlessly shifts perspectives, giving the impression of being every character as well as the storyteller."
—The New Yorker

"Opaque, fascinating and delicate, a story that will insidiously grow roots in your mind."
—Lovereading (UK)

"A luminous and alarming lesson on desire."
—La Stampa (Italy)

"It is a book about writing: about the relationship between the author's life, his state of mind, his craft and his material...Baricco had a fine old time giving this virtuouso literary performance."
—European Literature Network

Praise for Alessandro Baricco

"Silk has the brilliant colors . . . and the enchantment of a miniature. Vividly erotic."—Newsday

"Silk is a riveting, lyrical love story, an accomplished historical fiction, a compact, condensed . . . epic about human hearts in crisis."
—Alan Cheuse, All Things Considered

"Three Times at Dawn reads like the love child of Virginia Woolf and Haruki Murakami."
—Rachel Donadio, New York Times
 
"[Mr. Gwyn's] shifting perspectives and impressive handling of ambiguity make it an entirely beguiling read: a cerebral mystery contained with a tale of artistic struggle."
—Tobias Carroll, Star Tribune
 
"Silk is a heart-breaking love story . . . A stylistic tour de force [and] a literary gem of bewitching power."—The Sunday Times