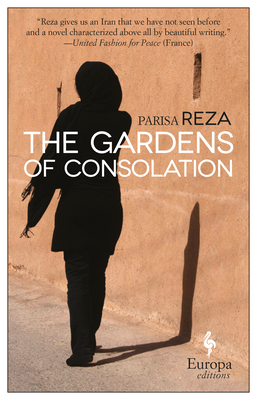 The Gardens of Consolation
Paperback

* Individual store prices may vary.
Description
A Publisher's Weekly Best Book of 2016

Parisa Reza has written a powerful love story filled with scenes of hope and heartbreak centered around an Iranian woman named Talla, "a formidable and hard-to-forget heroine (Publisher's Weekly)," whose pursuit for a better life runs with the backdrop of a rapidly changing Iran. 

In the early 1920s, in the remote village of Ghamsar, Talla and Sardar, two teenagers dreaming of a better life, fall in love and marry. Sardar brings his young bride with him across the mountains to the suburbs of Tehran, where the couple settles down and builds a home. From the outskirts of the capital city, they will watch as the Qajar dynasty falls and Reza Khan rises to power as Reza Shah Pahlavi. 

Into this family of illiterate shepherds is born Bahram, a boy whose brilliance and intellectual promise are apparent from a very young age. Through his education, Bahram will become a fervent follower of reformer Mohammad Mosaddegh and will participate first-hand in his country's political and social upheavals.
Praise For The Gardens of Consolation…
Praise for The Gardens of Consolation

"[An] exquisite, deceptively quiet novel...evolves from an intimate chronicle of Talla and Sardar's provincial lives into a sweeping tour through early-20th-century Iran."
—The New York Times

"Iranian French author Parisa Reza's stunning debut, The Gardens of Consolation, unfolds over decades of fascinating Iranian history and culture...The novel pulls you in like a waking dream. The writing is lush and evocative... this is not so much a story of history, of political upheaval, as a rich, intimate story of people."
—Boston Globe

"Yet the compressed force of Reza's language not only commands our attention but also creates a subtle, brooding suspense that intensifies as her narrative proceeds inexorably toward revolution...So rooted, indeed, is Parisa Reza's writing in the fertile soil of Iran that The Gardens of Consolation seems to contain an entire nation."
—Barnes & Noble Review

"The novel is at its best when it evokes the family's comfort, despite the upheavals, in sensual, timeless pleasures: vats hot with rose petals and lamb, 'the smell of jasmine and damp soil.'"
—The New Yorker

"An absorbing debut novel. Reza...succeeds in imbuing the Amir's story with stirring sociopolitical importance...Talla is formidable, hard-to-forget heroine."
—Publisher's Weekly (Starred Review) 

"Winner of 2015's Prix Senghor for a debut novel by a Francophone writer, this compelling book raises important questions about indulgence, gender, community, and the impact of politics on everyday life."
—Kirkus Reviews

"A beautiful tour de force of a novel."
—World Literature Today

"[Reza] never loses track of her intimate focus on one family whose lives are shaped by love, loyalty, tradition, and the continual adjustments required as political power shifts."
—Jane Ciabattari, BBC

"Reza presents to the reader a very different view of Iran than that reported by newspapers and magazines. Though Reza left the country when she was 17, the land has made an indelible mark on her. Her love for the struggling shepherds and farmers is palpable."
—Historical Novels Review

"The Gardens of Consolation heralds the arrival of yet another prodigiously talented French-Iranian author, Parisa Reza, whose outstanding debut novel, like the works of Marjane Satrapi and Fariba Hachtroudi, voices a side of Iran rarely glimpsed in Western media."
—Shelf Awareness

"Hunter's excellent translation allows English readers to enjoy how Reza effectively interweaves vivid storytelling and insightful commentary. This engaging novel is a must-read for anyone interested in trying to understand the true nature of Iran..."
—Booklist

"Informative but not didactic, this book reads like a popular saga, simply told and with recognizable characters whom many readers will appreciate."
—Library Journal

"[The Gardens of Consolation] is beautifully written, and rather tough emotionally – and is soaked in the desert and towns of an Iran struggling to find its feet in the modern world, to grow, to educate its people, and to westernise." 
—Shiny New Books

"The Iranian-French author's debut juxtaposes Iran's rural roots with its explosive urban history in the story of one humble family that travels across the divide."
—Boris Kachka, Vulture

"At once a love story and a chronicle of political and social upheaval, Reza's novel is an important introduction to some of the major turning-points in Iranian history."
—Book Riot

"Reza's writing, aided by Adriana Hunter's talented translation from the French, is lyrical, the text almost reads like a fable. At once simple and vivid, the author brings Iranian history, attitudes and politics to life in an engrossing, entertaining and informative way."
—BookBrowse

Europa Editions, 9781609453503, 208pp.
Publication Date: December 6, 2016
About the Author
Parisa Reza was born in Tehran in 1965 to a family of intellectuals and artists, and moved to France at the age of seventeen. She was awarded the Prix Senghor 2015 for her first novel, The Gardens of Consolation.

Adriana Hunter is a British translator of French literature. She has translated more than fifty French novels including Fear and Trembling by Amélie Nothomb and The Girl Who Played Go by Shan Sa. She was awarded the 2011 Scott Moncrief Prize for her translation of Véronique Olmi.
or
Not Currently Available for Direct Purchase