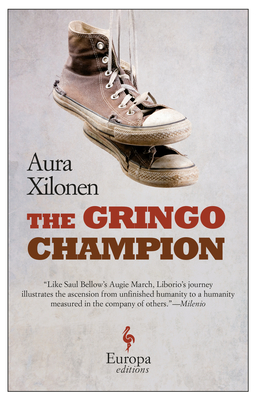 The Gringo Champion
Paperback

* Individual store prices may vary.
Description
The award-winning debut novel by young Mexican author Aura Xilonen, The Gringo Champion is a thrillingly inventive story about crossing borders that the Los Angeles Review of Books called "one of the must-read books of 2017."

Liborio has to leave Mexico, a land that has taught him little more than a keen instinct for survival. He crosses the Rio Bravo, like so many others, to reach "the promised land." And in a barrio like any other, in some gringo city, this illegal immigrant tells his story.

As Liborio narrates his memories we discover a childhood scarred by malnutrition and abandonment, an adolescence lived with a sense of having nothing to lose. In his new home, he finds a job at a bookstore. He falls in love with a woman so intensely that his fantasies of her verge on obsession. And, finally, he finds himself on a path that just might save him: he becomes a boxer.

This is a migrant's story of deracination, loneliness, fear, and finally, love told in a sparkling, innovative prose. It's Million Dollar Baby meets The Brief Wondrous Life of Oscar Wao, and a story of migration and hope that is as topical as it is timeless.
Praise For The Gringo Champion…
Praise for The Gringo Champion

"Its linguistic inventiveness, its joyful storytelling, the beauty of its characters, and its empathy to the experience of economic marginalization and migration make The Gringo Champion, in my view, one of the most significant and worthwhile novels of 21st-century Mexican literature. "
—The Los Angeles Review of Books

"Punches, profanity and streams of offbeat argot fly from the first page of this idiosyncratic debut novel about a Mexican immigrant living on the edge of survival in an unnamed American city."
—The New York Times Book Review

"In writing The Gringo Champion, Xilonen essentially created a new language ('ingeñol' as some reviewers have named it) that represents the imbricated border culture, and when faced with the task of translating, requested that her translators do the same."
—The Rumpus

"[An] exuberant novel...[Xilonen's] cross-cultural background has clearly given her insight into the sometimes surreal experience of being outside one's own culture. She writes with passion about these feelings of dislocation."
—The Dallas Morning News

"Like Saul Bellow's Augie March, Liborio's journey illustrates the ascension from unfinished humanity to a humanity measured in the company of others."
—Milenio

"With vulgar idiom brilliantly transformed into art, and cultured diction majestically and cleverly transformed into vulgar parlance, Aura Xilonen surprises readers from the start to the finish of Gringo Champion with her talent, creativity, and fine sensibilities."
—El Sur (Mexico)
Europa Editions, 9781609453657, 320pp.
Publication Date: January 17, 2017
About the Author
Aura Xilonen is a novelist and filmmaker. She won the 2015 Mauricio Achar Prize for her first novel, The Gringo Champion.