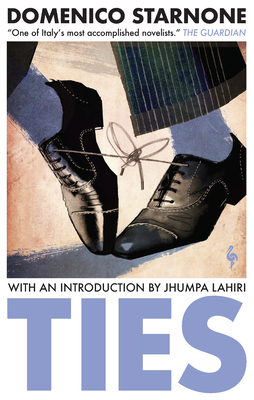 Ties
Paperback

* Individual store prices may vary.
Other Editions of This Title:
Hardcover, Japanese (11/27/2019)
Description
A New York Times Notable Book of the Year

A Sunday Times and Kirkus Reviews Best Book of the Year

Translated by Pulitzer Prize-winning author Jhumpa Lahiri, Ties is a compulsively readable and provocative novel about marriage and family by one of Italy's bestselling novelists.

Like many marriages, Vanda and Aldo's has been subject to strain, to attrition, to the burden of routine. Yet it has survived intact. Or so things appear. The rupture in their marriage lies years in the past, but if one looks closely enough, the fissures and fault lines are evident. It is a cracked vase that may shatter at the slightest touch. Or perhaps it has already shattered, and nobody is willing to acknowledge the fact.

Domenico Starnone's thirteenth work of fiction is a powerful short novel about relationships, family, love, and the ineluctable consequences of one's actions. Known as a consummate stylist and beloved as a talented storyteller, Domenico Starnone is the winner of Italy's most prestigious literary award, The Strega.  

Winner of The Bridge Prize for Best Novel 2015 
Praise For Ties…
Praise for Ties, named a 2017 New York Times Notable Book

"Ties is...the leanest, most understated and emotionally powerful novel by Domenico Starnone."
—Rachel Donadio, The New York Times

"Ties is puzzle-like, architectural, a novel ingeniously constructed."
—The New Yorker

"Ties is a masterful study of passing time."
—National Post (Canada)

"[Ties] is as vivid and devastating as anything you will read this year. A slim, stunning meditation on marriage, fidelity, honesty, and truth."
—Kirkus Reviews (Starred Review)

"Scalding and incisive."
—Library Journal (Starred Review)

"An expertly crafted short novel that is charmingly intimate, disarmingly chatty and laced with some walloping surprises."
—Shelf Awareness

"An outstanding acheivement."
—The Sunday Times (UK)

"Ingeniously constructed."
—Financial Times

"Absolutely gripping from start to finish... a really stunning book."
—Victoria Hislop, author of Cartes Postales from Greece

"Each detail resonates, from the name of the family cat to the idiosyncratic way in which Aldo ties his shoes to his cherished Polaroids. Distinguished by its distinctive characters and clarity of tone, Ties is a gem."
—Jane Ciabattari, BBC

"A complex and devastating dissection of a relationship, superbly teased apart and considered from all possible viewpoints."
—The Times

"A tight tale of domestic carnage."
—The Times Literary Supplement

"The story glints and cuts like smashed crystal."
—Anthony Cummins, The Guardian

"A fine piece of story-telling... there is a feel of legerdemain to it—, capturing and conveying a great deal in a relatively small space."
—M.A. Orthofer, The Complete Review

"Brief, brilliant and unnerving."
—Margot Livesey, author of Mercury

"A cleverly crafted psychological thriller, this slim, intimate novel deftly undoes contemporary gender constructions as well as timeless notions of truth, fidelity, and sacrifice."
—Jennifer Tseng, author of Mayumi and the Sea of Happiness

"A superlative novel, Ties offers an x-ray image both of love that is love in name only and of destruction, specifically a home torn apart by something that at first seems to be a tornado but turns out to be Starnone's brilliant writing."
—Il Giornale 

"Ties is a masterfully crafted synthesis of Starnone's storytelling technique and prose style."
—Christian Raimo, Internazionale

"Ties is not simply a novel about a couple in crisis, but a work of literature where staged scenes featuring one's unrealized self are propped up by the indestructible scaffolding of marriage."
—Daniela Brogi, Le Parole e le Cose

"Starnone renders narrative time telescopically as well as microscopically, so that fleeting moments expand and entire decades contract within the same paragraph. [...] And this is the book's highest achievement: the novelist's agile handling of time expresses itself in his characters' agony."
—Public Books

"Starnone captures and dissects a vast array of concerns in a slim volume, neatly structured and tightly plotted, yet at the same time open-ended, without definitive answers or solutions. Ties, in other words, packs a lot of baggage into a small container while also leaving the container ajar, like Pandora's box."
—Asymptote Journal
Europa Editions, 9781609453855, 144pp.
Publication Date: March 7, 2017
About the Author
Domenico Starnone is an Italian writer, screenwriter and journalist. He was born in Naples and lives in Rome. He is the author of thirteen works of fiction, including First Execution (Europa, 2009), Via Gemito, winner of Italy's most prestigious literary prize, the Strega.

Jhumpa Lahiri is the Pulitzer Prize-winning author of The Interpreter of Maladies. Her books include The Namesake, Unaccustomed Earth, The Lowland, and, most recently, In Other Words, an exploration of language and identity.