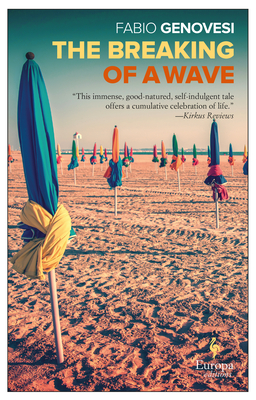 The Breaking of a Wave
Paperback

* Individual store prices may vary.
Description
Winner of the 2015 Strega Prize for Young Authors

A young girl struggles with her beloved brother's accidental death, her mother's depression, and fitting in at school in Fabio Genovesi's touching, funny, and imaginative new novel.

Thirteen-year-old Luna lives in a small town on the coast of Tuscany. She is smart and funny. When her beloved brother Luca drowns in a surfing accident, Luna's mother retreats into herself. At school, stricken by her loss yet determined to carry on, Luna makes a new friend and ally, the eccentric Zot, a boy from Chernobyl. Luna believes that Luca still speaks to her through a whale bone washed up on the nearby shore.

Luna's fantasies clash with the lies–even the well-intentioned ones—of the adult world in this touching, vibrant novel by the author of Live Bait. Luna is an unforgettable character—vivid, stubborn, highly imaginative, determined to become her own person.
Praise For The Breaking of a Wave…
Praise for The Breaking of a Wave

"But beneath the boundless flow of colorful anecdote, character portrait, and discursive dialogue in and around the Tuscan town of Forte dei Marmi, there's a story about the lonely daydreams of outsiders...this immense, good-natured, self-indulgent tale offers a cumulative celebration of life in shaggy dog form."
—Kirkus

"Open the book to any page...and find there traces of impeccable humor and of daring magic, of innocence and of sensuality, as if the entire book had been animated by a single, unique breath of life."
—Aldo Grasso, Corriere della Sera

"A timeless tale of the power of imagination and of the strength possessed solely by those still capable of astonishment, of the extraordinary experience of being unconventional, even when suffering may sometimes be the consequence."
—Elena Masuelli, TuttoLibri-La Stampa
Europa Editions, 9781609453879, 432pp.
Publication Date: March 21, 2017
About the Author
Fabio Genovesi was born in Forte dei Marmi in Versilia in 1974. He is the author of Live Bait (Other Press, 2014), which has been translated into over ten languages, an earlier novel, Versilia Rock City, the memoir Morte Dei Marmi (Laterza, 2012), and the Strega Prize winning-novel, The Breaking of a Wave.