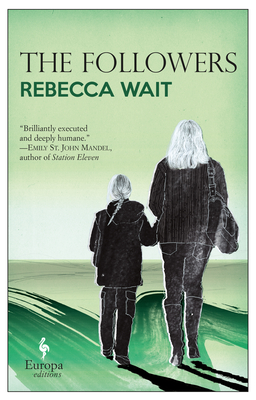 The Followers
Paperback

* Individual store prices may vary.
Description
The Followers is a compassionate and suspenseful story of the dissolution of a family. Judith has been visiting her mother, Stephanie, in prison once a month for the last eight years. She still can't bring herself to talk with her mother about what brought them here--or about Nathaniel, the man whose religious cult almost cost them their lives.

When Stephanie first meets him, she is a struggling single mother and
Nathaniel is a charismatic outsider, unlike anyone she's ever known. In deciding to join the small religious cult he has founded, Stephanie thinks she is doing the best thing for her daughter: a new home, a new purpose.

Judith and Stephanie are initiated into a secret society whose "followers" must obey the will of a zealous prophet. As Stephanie immerses herself in her new life, Judith slowly realizes the moral implications of the strict lifestyle Nathaniel preaches. Tensions deepen, faith and doubt collide, and a horrifying act of violence changes everything. In the shattering aftermath, it seems that no one is safe.

Powerful, gripping, and impossible to forget, The Followers is a novel about
love, hope, and identity that asks timely questions: Are we still responsible for our actions if we remake ourselves in someone else's image? And can there be a way back?
Praise For The Followers…
Praise for The Followers

"A profoundly unsettling, brilliantly executed, and deeply humane depiction of a slow slide toward an unspeakable act, and the difficulty and necessity of finding a way to live in the aftermath. The Followers is a remarkable novel."
—Emily St. John Mandel, author of Station Eleven

"Wait's propulsive plotting and the complicity she creates through the power of her writing form a great surging shout of a novel."
—The Guardian

"With skillful judgment, Wait shows us that not everyone can be trained or scared into submission. The tenderness and the transformative nature of the ending are truly moving."
—The Independent

"The novel has a brooding tension that threatens no good to come, building to a
page-turning finish."
—John Harding, Daily Mail

"...readers will be drawn in by Wait's unfolding of events."
—Booklist

"Rebecca Wait describes the world of The Followers with such vividness that I dreamt about her cold, misty moorland, and with such tenderness that the ending brought tears to my eyes."
—Alison Moore, Man Booker Prize-shortlisted author of The Lighthouse

Europa Editions, 9781609454012, 304pp.
Publication Date: July 25, 2017
About the Author
Rebecca Wait is the author of The View on the Way Down. She studied English at Oxford University, where she specialized in Old English Poetry. She lives and teaches in London.