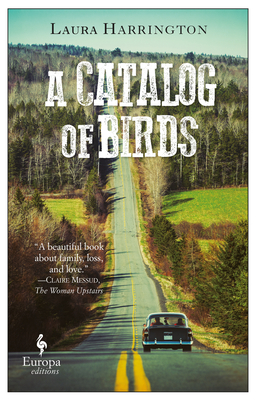 A Catalog of Birds
Paperback

* Individual store prices may vary.
Other Editions of This Title:
Digital Audiobook (11/20/2017)
MP3 CD (11/21/2017)
Compact Disc (11/21/2017)
Compact Disc (11/21/2017)
Description
Billy Flynn always wanted to fly. An attractive young man, a patriot, he is also an artist with pencil and paint and has an abiding affinity for nature. It's 1970 and he cannot resist the call to serve in Vietnam. A year later he is the only survivor when his helicopter is shot down.
 
A wounded Billy returns home to his family in upstate New York, especially to Nell, his adoring younger sister. In his absence, the woman he loves has mysteriously disappeared. His wounds have crippled his ability to even hold a pencil and his hearing loss has cut him off from the natural world. Nell, a brilliant student headed for a career in science, will do all that's possible to save him.
 
A Catalog of Birds is the story of a family and a community confronted with a loss of innocence and wounds that may never heal. The legacy of war and its destruction of nature is seared onto the memories of a small American town.
 
Laura Harrington has written a tale of forgiveness, of ourselves, and those we love. Illuminated by heartbreak and promise, the novel is alive with spirit and wonder and hope for the future.
Praise For A Catalog of Birds…
Praise for A Catalog of Birds

"Stunning natural descriptions provide a rich backdrop for Harrington's beautifully articulated coming-of-age story, which captures the pain of loved ones grappling with the after effects of war."
—Booklist (Starred)

"A sensitive rendering of shattered lives."
—Kirkus Reviews

" … one of the great pleasures of reading A Catalog of Birds is that it's as impossible to categorize as it is to put down. The smooth path of Nell's life is interrupted by tragedy. Her best friend, Megan, disappears mysteriously, and her beloved brother, Billy, comes home from Vietnam severely injured. At once, the novel becomes a searing war story and a page-turning thriller."
—The Washington Post

"Her prose sings, sweeping through heavy topics with a quiet sense of resilience and buoyant hope."
—Publisher's Weekly

"In language that is both lyrical and horrifying, A Catalog of Birds questions what it means to be an American, and offers what can be salvaged, or hoped, for a future."
—Consequence Magazine

"Harrington's prose is fierce and tender both, and the story so powerful. Taut and true, A Catalog of Birds is a beautiful book about family, loss and love. Its memorable characters will haunt you long after you put it down."
—Claire Messud, author of The Woman Upstairs

"Laura Harrington's lyrical and unforgettable A Catalog of Birds explores what makes a life worth living. Harrington paints both human frailties and the Vietnam conflict with empathetic clarity she does best and the parallels between our recent wars in the Middle-East are both nuanced and startlingly wise."
—Siobahn Fallon, The Confusion of Languages
 
"A Catalog of Birds is a heartbreaking journey into the soul of America."
—Randy Susan Meyers, The Widow of Wall Street
 
"Laura Harrington has written a rich, dense, beautifully crafted novel."
—Ann Napolitano, A Good Hard Look
 
"There is a fierceness to this book. A Catalog of Birds is an absolute marvel of a novel."
—Robin Black, Life Drawing
 
"A Catalogue of Birds immerses us in a world of family love; of yearning and faith and the devastation wrought by war on the human heart. Laura Harrington weaves American history and natural history into a riveting story of damage and resilience. Harrington's voice is as clear and distinctive as a bird call."
—Rachel Kadish, award-winning author of The Weight of Ink 

"Laura Harrington's new novel, A Catalog of Birds, is as accomplished as it is brave. As writers continue to peel away the layers of our involvement in Vietnam, few have ventured as close to the bone as Harrington."
—Wicked Local Beverly
Praise for Alice Bliss

"Nothing less than a fully realized vision of a young complicated girl."
—Entertainment Weekly

"Harrington's first novel makes a powerful statement against the war. Her story is harrowing and heartbreaking, it reads like truth."
—Sue Corbett, People Magazine (four stars)

"Alice Bliss is a heroine of her day whose relationship with her father is tenderly and movingly realized."
—London Sunday Times

"Though the fluid narration offers access to many characters, this is the story of Alice, her courage, fear, and optimism, and her heartbreaking discovery of the extent to which her father's life will shape and guide her own."
—Publishers Weekly

"Starred Review. This is a remarkably sensitive first novel, full of splendid characterizations."
—Booklist

"Heartbreaking yet edged with promise, Alice Bliss explores the wounds of war, love, and family bonds while illuminating the strength of a young girl's spirit. A stunning debut."
—Beth Hoffman, New York Times bestselling author of Saving CeeCee Honeycutt
Europa Editions, 9781609454036, 224pp.
Publication Date: July 11, 2017
About the Author
Laura Harrington, has written dozens of plays, musicals, and operas, which have been produced in venues ranging from Off-Broadway to the Houston Grand Opera. Harrington has twice won both the Massachusetts Cultural Council Award in playwriting and the Clauder Competition for best new play in New England. Laura teaches playwriting at MIT where she was awarded the 2009 Levitan Prize. Alice Bliss, her first novel, won the 2012 Massachusetts Book Award in Fiction.