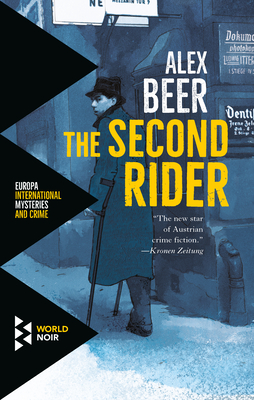 The Second Rider (Paperback)
World Noir, 9781609454722, 320pp.
Publication Date: October 2, 2018
* Individual store prices may vary.
Description
"A thrilling, deeply satisfying debut novel by 'the new star of Austrian crime fiction'." --Kronen Zeitung
Most of the remaining population of Vienna--a city scarred by World War I in which the grandeur of the Habsburg Empire is a fading memory--is surviving by its wits, living hand to mouth in a city rife with crime, prostitution, and grotesquely wounded beggars. There are shakedowns on every street corner, the black market is the only market, and shortages of vital goods create countless opportunities for unscrupulous operators.
Into this cauldron of vice comes Inspector August Emmerich, a veteran himself, whose ambitions lead him to break the rules when necessary and whose abiding wish is to join the Viennese major crimes unit. When a corpse is found in the woods outside the city and immediately labeled a suicide, Emmerich, convinced it was nothing of the sort, sees a chance to prove his mettle. His investigations will reveal an insidious and homicidal urge lurking in the city.
The Second Rider is the first volume in a gripping and bestselling series featuring police agent August Emmerich.
About the Author
Alex Beer was born in Bregenz, Austria, and studied archeology. She now lives in Vienna. This is her English-language debut. Tim Mohr's published translations include novels by Wolfgang Herrndorf, Stefanie de Velasco, Charlotte Roche, and Alina Bronsky. He has collaborated on memoirs by musicians Paul Stanley, Gil Scott-Heron, and Duff McKagan.