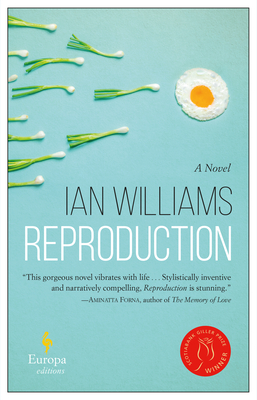 Reproduction (Paperback)
Europa Editions, 9781609455750, 464pp.
Publication Date: April 21, 2020
Other Editions of This Title:
MP3 CD (6/11/2019)
* Individual store prices may vary.
Description
WINNER 2019 SCOTIABANK GILLER PRIZE
Reproduction is an energetically told, funny, and moving novel about--as the author himself has said--"how strangers become family."
Set over three decades, from the early eighties through the 2000s, mainly in the socio-economically mixed and culturally diverse Toronto neighborhood of Brampton, Reproduction tells the story of Felicia, a nineteen-year-old student from a West Indian family, and Edgar, the lazy-minded and impetuous heir of a wealthy German family. The two meet by chance when their dying mothers are assigned the same hospital room. After the death of Felicia's mother, and the recovery of Edgar's, Felicia drops out of high school and takes a job as caregiver to Edgar's mother, only to eventually become Edgar's lover. They are an odd couple indeed, but their affair, ripe with miscommunications, misunderstandings, and reprisals for perceived and real offenses, results in a pregnancy.
The story leaps forward more than a decade and Felicia's son, Armistice, "Army," for short, is a teenager fixated on a variety of get-rich-quick schemes that are as comic as they are indicative of the immigrant's fear of falling through the cracks. Army and Felicia rent a home in a duplex from Olivier, a divorcee with two kids around Army's age. Here the book's second happenstance "family" is introduced. Edgar re-enters their lives at a typically (for him) inopportune moment, and provides the catalyst for the book's conclusion, which sees Felicia and Edgar reunited, in a sense, in illness, neatly closing the story's arc.
Reproduction is a crooked love story, one in which love takes strange, winding paths and evolves within a context shaped not by solitude but by community and the fleeting interactions with people that leave their marks on us forever.
About the Author
Poet, short story writer, and novelist Ian Williams was named one of "ten Canadian writers to watch out for" by CBC in 2018. His poetry has been shortlisted for the Griffin Poetry Prize and the Robert Kroetsch Poetry Book Award. He won the Danuta Gleed Literary Award for his short stories. Williams holds a Ph.D. in English from the University of Toronto and is currently an assistant professor of poetry in the Creative Writing program at the University of British Columbia in Vancouver. Reproduction, his debut novel, was a finalist for the Amazon first novel prize, was a CBC Spring & Black History Month pick, and dubbed one of the "Buzziest Books of 2019" by Chatelaine Magazine.