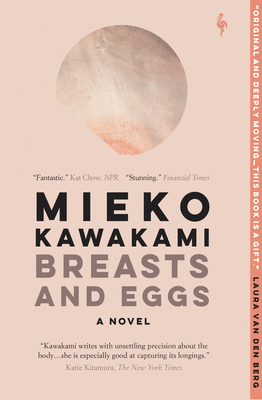 Breasts and Eggs (Hardcover)
Europa Editions, 9781609455873, 448pp.
Publication Date: April 7, 2020
* Individual store prices may vary.
Description
Kawakami, who exploded into the cultural space first as a musician, then as a poet and popular blogger, is perhaps best known as one of Japan's most important and best-selling literary voices. Challenging every preconception about storytelling and prose style, she is currently one of Japan's most widely read and critically acclaimed authors, heralded by Haruki Murakami as his favorite new writer.

Breasts and Eggs focuses on the female body, telling the story of three women: the thirty-year-old unmarried narrator, her older sister Makiko, and Makiko's daughter Midoriko. In the book's first part, set over three stiflingly hot days in Tokyo, Makiko, who is unable to come to terms with her changed body after giving birth, becomes obsessed with the prospect of getting breast enhancement surgery. Meanwhile, her twelve-year-old daughter Midoriko is paralyzed by the fear of puberty and finds herself unable to voice the vague, yet overwhelming pressures associated with growing up. The narrator struggles with her own indeterminable identity of being neither a "daughter" nor a "mother."

In the book's second part, set on another hot summer day ten years later, the narrator, having reconciled herself with the idea of never marrying, nonetheless feels increasing anxiety about growing old alone and childless. In episodes that are as comical as they are revealing, she seeks direction from other women in her life--her mother, her grandmother, friends, as well as her sister--and only after dramatic and frequent changes of heart, decides in favor of artificial insemination. However, as the narrative confronts reproduction rights issues, both universal and specific, it becomes clear that a decision made is not always met.

Breasts and Eggs looks at the ongoing repression of women in Japan and the possibility of liberation, poverty, domestic violence, and reproductive ethics. Mixing comedy and realism, Breasts and Eggs tells of an epic life-affirming journey about finding inner strength and peace.

"I'm sure that in the pages of this novel, readers will find something that echoes in their own life-- the randomness, suddenness, and strangeness--and at the same time something fundamental to the human experience."--Mieko Kawakami
About the Author
Born in Osaka prefecture in 1976, Mieko Kawakami began her career as a singer and songwriter before making her literary debut in 2006. Her first novella My Ego, My Teeth, and the World, published in 2007, was nominated for the Akutagawa Prize and awarded the Tsubouchi Shoyo Prize for Young Emerging Writers. The following year, Kawakami published Breasts and Eggs as a short novella. It won the Akutagawa Prize, Japan's most prestigious literary honor, and earned praise from the acclaimed writer Yoko Ogawa. Kawakami is also the author of the novels Heaven, The Night Belongs to Lovers, and the newly expanded Breasts and Eggs, her first novel to be published in English. She lives in Japan.