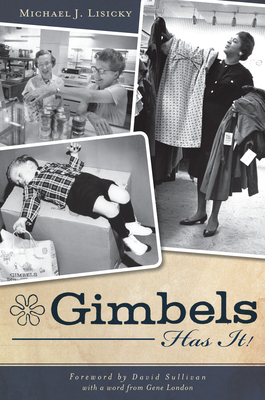 Gimbels Has It! (Paperback)
History Press (SC), 9781609493073, 157pp.
Publication Date: July 10, 2011
Description
In 1842, Adam Gimbel opened a small storefront in Vincennes, Indiana and unknowingly set forth the groundwork for an American retail icon. His fair trade" practices encouraged him to leave Vincennes and open up "the largest store ever" in 1887 in the city of Milwaukee. After getting his Milwaukee on firm ground, Adam Gimbel left for Philadelphia, his wife's hometown, with his seven sons and opened the "world's largest store" in 1894.Like every major department store, Gimbels began to follow its customer into the suburbs, and the family became less involved in the running of the store. With sales and profits falling, Gimbels was purchased by British-American Tobacco. The company struggled to right itself in the challenging and changing retailing world. It built a new controversial flagship store in Philadelphia but it failed to draw its traditional shopper. By June 1986, Gimbels was going out of business and the 36 Gimbels stores located from Philadelphia to Milwaukee permanently shut their doors.
Advertisement