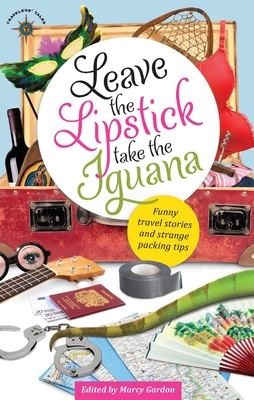 Leave the Lipstick, Take the Iguana
Funny Travel Stories and Strange Packing Tips
Paperback

* Individual store prices may vary.
Description
Leave the Lipstick, Take the Iguana is the ninth book in the best-selling Travelers' Tales humor series, which began with There's No Toilet Paper on the Road Less Traveled and blossomed into the now classic underwear women's humor series, including the top sellers Sand in My Bra and More Sand in My Bra. This laugh-out-loud collection will resonate with experienced travelers and novices alike and includes hilarious misadventures with packing, travel fashion, border crossings, language faux pas, weird encounters with exotic cuisine, and romantic overtures abroad.
Travelers' Tales, 9781609520533, 203pp.
Publication Date: November 22, 2012
About the Author
Marcy Gordon has laughed her way through 27 countries, many of them before the age of fourteen in the company of her travel-writing mother. She lived in Italy and worked for The Touring Club of Italy as contributing editor and co-designer of the Authentic Italy guidebook series. Her narrative travel writing has been featured on-line and in print in many Travelers' Tales anthologies including The Best Women's Travel Writing 2010 and 2011, More Sand in My Bra, 30 Days in Italy, and The Thong Also Rises. She writes a popular blog about wine and wine tourism destinations called Come for the Wine, and is also a frequent speaker at travel and wine tourism conferences around the world.