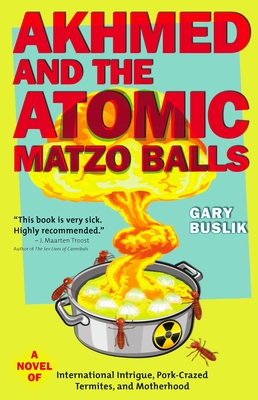 Akhmed and the Atomic Matzo Balls (Paperback)
A Novel of International Intrigue, Pork-Crazed Termites, and Motherhood
Travelers' Tales Guides, 9781609520694, 370pp.
Publication Date: March 27, 2012
* Individual store prices may vary.
Description
Iranian president Akhmed teams up with the leaders of Venezuela and Cuba and their American intelligence agents to smuggle radioactive matzo balls into Miami Beach. But intelligence being as slippery a concept to these nincompoops as chicken fat on linoleum, when each member of the gang decides to ladle out his own personal nuke soup, holy terror Akhmed is left steaming. Will his plan to destroy America float like a fly or sink like a lead dumpling? Star-crossed lovers, conniving academics, and blustery social climbers collide with ravenous termites, international do-badders, and multi-level marketing in a plot as fast-paced and hilarious as a runaway mountain bus. Radioactivity has never been so much fun.

About the Author
Gary Buslik writes novels, short stories, and essays, and he teaches literature and creative writing at the University of Illinois at Chicago. He is also the author of A Rotten Person Travels the Caribbean.
Praise For Akhmed and the Atomic Matzo Balls: A Novel of International Intrigue, Pork-Crazed Termites, and Motherhood…
Akhmed and the Atomic Matzo Balls is peopled by some of the most unpleasant, malevolent, and stupid characters you can imagine but it's so clever and funny that I, the reader, was delighted to follow their complicated, self-serving, insane machinations. Gary Buslik loves words. His prose is rich and vivid." Bookworm Room

Akhmed and the Atomic Matzo Balls "definitely contains many thoroughly revolting, brain-curdling, nail-biting scenes that will ensure you will not only be unable to close it before you are through; no, you shall remain wide awake rereading some especially and sickeningly delicious passages." Simply Jews blog

"You will love this book! It has been a long time since I have laughed like this it's the best since Hitchhiker's Guide to the Galaxy." NoisyRoom blog