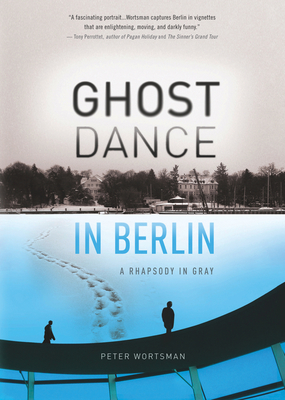 Ghost Dance in Berlin
A Rhapsody in Gray
Paperback

* Individual store prices may vary.
Description
Every great city is a restless work in progress, but nowhere is the urban impulse more in flux than in Berlin, that sprawling metropolis located on the fault line of history. A short-lived fever-dream of modernity in the Roaring Twenties, redubbed Germania and primped up into the megalomaniac fantasy of a Thousand-Year Reichstadt in the Thirties, reduced in 1945 to a divided rubble heap, subsequently revived in a schizoid state of post-World War II duality, and reunited in 1989 when the wall came tumbling down -- Berlin has since been reborn yet again as the hipster hub of the 21st century. This book is a hopscotch tour in time and space. Part memoir, part travelogue, Ghost Dance in Berlin is an unlikely declaration of love, as much to a place as to a state of mind, by the American-born son of German-speaking Jewish refugees. Peter Wortsman imagines the parallel celebratory haunting of two sets of ghosts, those of the exiled erstwhile owners, a Jewish banker and his family, and those of the F hrer's Minister of Finance and his entourage, who took over title, while in another villa across the lake another gaggle of ghosts is busy planning the Final Solution.
Praise For Ghost Dance in Berlin: A Rhapsody in Gray…
"A fascinating portrait of one of the world's most complex and misunderstood cities. With the keen eye of an American-born son of Jewish refugees, Wortsman captures Berlin in vignettes that are enlightening, moving, and darkly funny."
Tony Perrottet, author of Pagan Holiday and The Sinner's Grand Tour

Praise for Peter Wortsman:

"I was particularly struck by the account of the visit to Auschwitz [in "Snapshots and Souvenirs"]. The behavior of the people was wonderfully human and moving the sort of thing even the best writers find it almost impossible to invent. The unexpected in human behavior is difficult to take out of the air, as opposed to the usual, which anyone can invent. So that it is precisely these unforeseen details which establish the authenticity of the text, and which give it its literary values. . . . The Auschwitz piece is excellent."
Paul Bowles, author of The Sheltering Sky and other books

"A Modern Way to Die is a fantastic book and I thoroughly enjoyed it. I have never read anything quite like this, but my enjoyment was due to more than just novelty, it was a response to marvelous writing, wonderful craft, and the breath of imagination. . . . [Wortsman] succeeded so well in his craft and art that it reads artless' and spontaneous,' which to me is the highest of compliments."
Hubert Selby, Jr., author of Last Exist to Brooklyn and other books

"Wortsman hangs with the masters."
A. Scott Cardwell, The Boston Phoenix

"His work reminded me some of E. B. White's New Yorker stuff observations turned into little reads but with a modernist twist."
Ruth Lopez, The New Mexican

"Wortsman achieves a level of spontaneity and accessibility . . . to which most writers can only aspire."
David Ulin, The Los Angeles Reader
Travelers' Tales, 9781609520786, 188pp.
Publication Date: February 26, 2013
About the Author
Peter Wortsman writes short stories, plays, travelogues, essays and poetry, and also translates from the German, which he considers another form of border crossing. He is the author of A Modern Way to Die, a book of short fiction, and Burning Words, a play produced in 2006 at the Northampton Center for the Arts in Northampton, Mass., and slated for production in Pforzheim, Germany, in 2014. His travel pieces have run in major American newspapers and been featured four years in a row in Travelers' Tales' The Best Travel Writing. A 2010 Fellow at the American Academy in Berlin, he was the recipient of the Solas Awards' 2012 Gold Grand Prize for Best Travel Story of the Year.