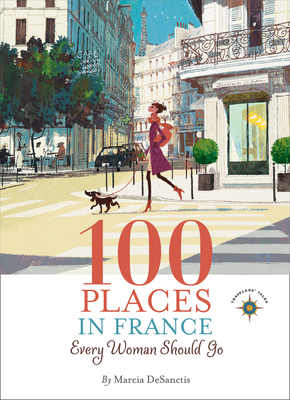 100 Places in France Every Woman Should Go (Paperback)
Travelers' Tales Guides, 9781609520823, 420pp.
Publication Date: November 11, 2014
Description
Told in a series of stylish, original essays, New York Times travel bestseller 100 Places in France Every Woman Should Go is for the serious Francophile, the woman dreaming of a trip to Paris, and those who love crisp stories well told. Like all great travel writing, this volume goes beyond the guidebook and offers insight not only about where to go but why to go there. Combining advice, memoir and meditations on the glories of traveling through France, this book is the must-have in your carry-on. Award-winning writer Marcia DeSanctis draws on years of travels and living in France to lead you through vineyards, architectural treasures, fabled gardens and contemplative hikes from Biarritz to Deauville, Antibes to the French Alps. These 100 entries capture art, history, food, fresh air and style and along the way, she tells the stories of fascinating women who changed the country's destiny. Ride a white horse in the Camargue, find Paris's hidden museums, try thalassotherapy in St. Malo, and buy raspberries at Nice's Cour Saleya market. From sexy to literary, spiritual to simply gorgeous, 100 Places in France Every Woman Should Go is an indispensable companion for the smart and curious traveler to France.

About the Author
Marcia DeSanctis is a former television news producer who has written essays and articles for numerous publications including Vogue, Marie Claire, Town & Country, More, Departures, The Christian Science Monitor, and The New York Times Magazine. Her essays have been widely anthologized and she is the recipient of three Lowell Thomas Awards for excellence in travel journalism, as well as a Solas Award for best travel writing. She holds a degree from Princeton University in Slavic Languages and Literature and a Masters in Foreign Policy from the Fletcher School of Law and Diplomacy. She lived and worked for several years in Paris and travels as much as possible to France. She lives in northwest Connecticut with her husband and two children.
Advertisement