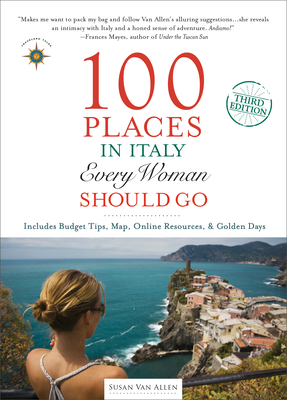 100 Places in Italy Every Woman Should Go (Paperback)
Travelers' Tales Guides, 9781609521219, 456pp.
Publication Date: November 15, 2016
* Individual store prices may vary.
Description
Imagine creating an Italian dream vacation with a fun-loving savvy traveler girlfriend whispering in your ear. Go with writer Susan Van Allen on a femme-friendly ride up and down the boot, to explore an extraordinarily enchanting country where Venus (Vixen Goddess of Love and Beauty) and The Madonna (Nurturing Mother of Compassion) reign side by side. With humor, passion, and practical details, this uniquely anecdotal guidebook will enrich your Italian days. Enjoy masterpieces of art that glorify womanly curves, join a cooking class taught by revered grandmas, shop for ceramics, ski the Dolomites, or paint a Tuscan landscape. Make your trip a string of Golden Days, by pairing your experience with the very best restaurant nearby, so sensual delights harmonize and you simpply bask in the glow of bell'Italia. Whatever your mood or budget, whether it's your first or twenty-first visit, with 100 Places in Italy Every Woman Should Go, 3rd Edition, Italy opens her heart to you.

About the Author
Susan Van Allen has written about Italian travel for National Public Radio, Town and Country, Tastes of Italia, and many other publications. She has also written for TV, on the staff of Everybody Loves Raymond. When she's not traveling off to Italy, she lives in Los Angeles with her husband.