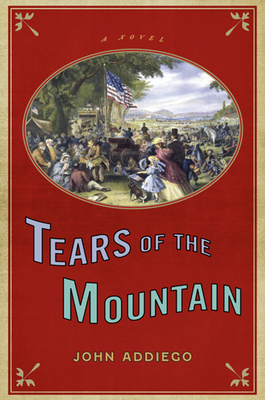 Tears of the Mountain
Hardcover

* Individual store prices may vary.
Description
Tears of the Mountain chronicles a single day
in one man's life--July 4, 1876--along with a
series of flashbacks that all lead up to an eventful
Centennial Independence Day celebration in
Sonoma, California. Over the course of this
surprisingly pivotal moment in his life, Jeremiah
McKinley prepares for the celebration and for a
reunion with old friends and family.
However, as he reflects on past love, the
hazardous pioneer journey of his youth across
the continent from Missouri, and the many violent
conflicts of the West, voices of the long dead
come to him, while old wounds and enmities
resurface, threatening everything he holds dear.
Furthermore, a series of mysterious notes and
messages follow him throughout the day. When
a visiting senator is found dead, suspicion leads
to his old mentor, Professor Applewood, whose
sudden disappearance from the festivities makes
McKinley a suspected accessory to a fugitive.
John Addiego fills this tale of America's coming of
age with wit and lively prose, seamlessly moving
back and forth through time in a novel that
recognizes both our darker side and our promise.
Praise For Tears of the Mountain…
"The cast of characters is fascinating, each one helping to move the tale forwardwell-written with historically accurate information regarding California's early settlement, the Gold Rush, and the Bear Rebellion that led to adding the California territory to the United Statesdifficult to put down; Addiego is a talented writer who has composed an exceptional story that will linger in my thoughts for some time. I look forward to reading his next book."
Historical Novels Review

Addiego wields perfect control of the story, using simple and elegant descriptive prose and charming sentence bridges to flow between one chapter and the next."
Sacramento Book Review

Addiego shows skill in developing varied yet realistic voices for his characters. As you would imagine in the newly settled west in the mid 19th century, there are people from a variety of environments and socio-economic backgrounds. The author presents these differences well and the narrative is the better for itThere is much to like about Tears of the Mountain and some great technical skill displayed in its executiona satisfying read on many levelsThere is something for most readers in this novel. It is a job well done."New York Journal of Books
Unbridled Books, 9781609530068, 387pp.
Publication Date: September 7, 2010